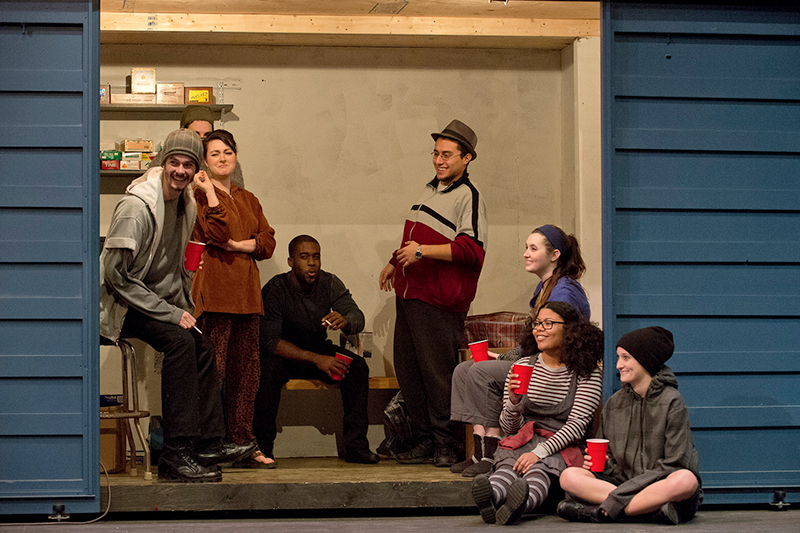 Keven Herrara was in the cast of the Theatre Department's 2013 productuion of The Good Person of Szechwan. From left are Charles Wilson, Anna Jastrzembski, Torian Pope, Kevin Herrera, Allie Schuette, Ines Santana, Alex Crivelli.
A student's improbable pursuit: science and the stage
With classes, labs, theatre productions and other responsibilities, some days start at 9 a.m. and end 14 hours later for Kevin Herrera '16. If Herrera isn't the only geo-sciences/theatre double major you've ever heard of, he's likely the most determined. He still has the first-year planner in which he meticulously listed the requirements for the wildly divergent majors. He's en route to both. Herrera admits the combination isn't easy to manage, but says he's in the right place to make it happen. If you want a school "in which you can do almost anything you can imagine, there really is no better place," he says about Hamilton College.
More >>

Michael Breslin '13, far right, at work during his year of research.
A graduate's progress: a year of research and travel
Michael Breslin '13, was a theatre major who won one of Hamilton College's greatest honors: a fellowship that offers a student the rare chance to pursue a personal academic interest. For Breslin, that's unequivocally theatre. The $22,000 William M. Bristol Fellowship encourages students to live outside the U.S. for a year of study. Breslin's project is "Gender Play: Displaying, Transgressing, and Transcending Gender Identity in World Theatre."
More >>