2013 Common Read: Evocative Objects (MIT Press, 2011)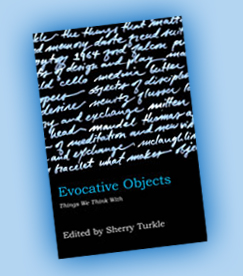 Several essays and the introduction are available on reserve from the library. Select "2013 Common Read" from the dropdown menu.

Reviews of the book:
Green, Penelope. "Really Thinking about Things." New York Times. November 8, 2007.
Lally, Elaine. "Thinking Through Things." Cultural Studies Review. 2011.

Author Information:
Sherry Turkle is Abby Rockefeller Mauzé Professor of the Social Studies of Science and Technology at MIT and Founder and Director of the MIT Initiative on Technology and Self. A psychoanalytically trained sociologist and psychologist, she is the author of The Second Self: Computers and the Human Spirit (Twentieth Anniversary Edition, MIT Press), Life on the Screen: Identity in the Age of the Internet, and Psychoanalytic Politics: Jacques Lacan and Freud's French Revolution. She is the editor of Evocative Objects: Things We Think With, Falling for Science: Objects in Mind and The Inner History of Devices, all three published by the MIT Press.