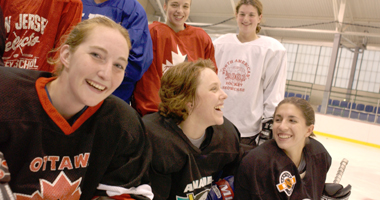 Athletics
Keeping fit and competitive
The Primary Outlet for Competition
Over the past 40 years at Hamilton, distribution requirements have come and gone -- and come and gone again. Within this pendulum swing, certain curricular requirements have also fallen in and out of favor. Only one remains immutable: physical education.
Most Hamilton students are natural competitors; that's how they got here in the first place. Intellectual ability is a necessary but not a sufficient grounds for admission. To get into Hamilton, students have to do the work, outperform most of their high school peers, and come through on an important test or a big paper when it counts. When they arrive at Hamilton the environment is, naturally, more collegial. In their academic work, students are competing primarily with their own past performances. The athletic field is the primary outlet for the competitive instinct at Hamilton.
A majority of our students engage in sports just to have fun and stay fit, although to get in shape and stay there is another form of self-competition. Like improving your grades, bettering your last running or swimming time can be immensely satisfying. Physical fitness through athletic training is also a priority for many of the 60 percent of Hamilton students who play club or intramural sports.
Our most talented student-athletes reach the varsity level, in which Hamilton competes with the other members of the New England Small College Athletic Conference (NESCAC). For these students, the joy of sport is attended by serious responsibilities: keeping a strict training regimen, developing skills to a higher level, showing up without fail, balancing time for academic work with athletics, being a good teammate and working to satisfy their teacher, the coach.
Hamilton's programs are designed to serve both kinds of athletes: the student primarily absorbed in academics, but who wants to keep fit by lifting weights or playing squash a few times a week; and the varsity athletes whose competitive readiness depends on access to top-notch training facilities. These facilities make a real difference in the lives of our students, and they are examined carefully during campus visits by many of our most promising candidates for admission. Before the day comes when they compete at Hamilton -- or for Hamilton against other colleges -- Hamilton must compete with other colleges for them
A New Fitness Center
In the late 1970s and '80s, Hamilton added the Scott Field House and the Bristol Pool to athletic facilities that were long overdue for renovation and expansion.
It also created the Emerson Lobby connecting the Alumni Gym to Sage Rink and built new locker rooms for men and women. Some years later it renovated the rink and annexed a small fitness center to the field house to accommodate the growing demand for indoor exercise, although the free weight room in the Alumni Gym (despite some updated equipment) retains its vintage 1940s aura.
For the most part, these new and improved facilities continue to serve the College community well. But there are three deficiencies the College must address as urgently as possible. The first is the need for a new and much larger fitness center.
This need is based on a social development of the last two decades, in which a thriving exercise culture has taken hold in the United States. This movement has been further fueled by a recent stream of media reports on the increase in obesity in American adults and children -- and its negative health consequences. As more people pile into gyms and fitness clubs, more students pack our fitness center. Here, the exercise boom has reached a volume the space can no longer contain. Throughout the winter, and especially during the prime-time hours of 4-7 p.m., there is a constant and often long wait for equipment. And now that almost every varsity sport requires weight training, the limitations of our current facility are even more evident.
As today's high school seniors and their parents weigh the pros and cons of various colleges, access to high-quality indoor exercise facilities is near the top of their checklists. For anyone faced with the prospect of spending four winters in Clinton, this factor can be decisive.
Accordingly, Hamilton plans to build a new fitness center in Saunders Hall, which will be expanded and renovated now that the chemistry labs have been relocated to the new Science Center. Situated near the gym, pool, field house and football field, the new fitness center will be within easier reach of residence halls and classrooms than the current facility. It will also be three times larger, offering resistance and weight-lifting machines, equipment for aerobic/cardio training, free weights and a climbing wall. Also moving to Saunders will be faculty offices for the Athletics Department, some of them freed from seclusion in the old Mail Center between Commons and Dunham.
Locker rooms and showers for the fitness center will be shared by the other new addition to the building: the dance studio. This juxtaposition has a certain logic; fitness equipment helps dancers keep in shape, and dance classes help athletes stay agile and flexible. Maybe it's not the end of chemistry in Saunders after all.
Goal: $5 million
New Squash Courts
Another liability Hamilton must address are its squash courts. When Scott Field House opened in 1978, among its most attractive features were two racquetball and three squash courts, visible from above on the walkway near the lobby.
Ten years later, however, these courts were rendered obsolete when the United States adopted the international standard for squash, widening the court from 18.5 to 21 feet and thus making the game more of an athletic challenge.
As a result, Hamilton has difficulty attracting men and women who want to compete in intercollegiate squash; our teams must play all their matches on the road at NESCAC colleges who built new courts to the international standard long ago. Even as a carry-over sport, which Hamilton students have learned and played for more than half a century, squash is suffering from a decline in interest.
The College plans to revive its squash program by annexing 10 new, regulation-size squash courts onto the north side of the field house, giving us one of the top facilities in the northeast. The teams will benefit, as will the students, faculty members and administrators who play intramural and recreational squash.
Goal: $4 million
A New Athletic Training Clinic
Hamilton's sports medicine facility, built when the College fielded 13 varsity sports, now serves more than twice that number.
It is severely overcrowded, especially prior to and during practices and athletic contests. It contains no private area where the team physician can treat athletes with the privacy and discretion that some injuries require. And, because of the many steps needed for access, it is non-compliant with the Americans with Disabilities Act (ADA).
To improve the staff's ability to treat and rehabilitate injured athletes, varsity and otherwise, the College will build a new sports medicine facility, four times larger than the current one. It will be ADA-compliant and will include whirlpools, ultrasound, benches, an adequate number of treatment tables, a private consulting and treatment area, and staff offices. A therapeutic/rehabilitation pool will help speed our athletes' return to competition and serve as an effective biomechanical teaching tool for the swim program. This new facility will also help us reduce our students' need to seek therapy from outside sources, saving expenses for them and their parents.
Goal: $1 million
Future Projects
Once the funds have been secured for the fitness center, squash courts and sports medicine projects, the College will consider making additional improvements to its athletic facilities. These include upgrades to Steuben and Love fields; renovation of the Alumni Gym, including team rooms and locker rooms; separate locker rooms for ice hockey; new intramural basketball courts annexed to the northwest side of the field house; and a reception area with a "Hall of Honors" room, which will evoke and illustrate the history and tradition of athletics at Hamilton.