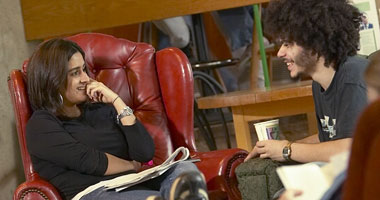 The New ELS House
A Place to Come Together
Coffee and Civility
It seemed like a strange name for a fraternity. The Emerson Literary Society -- were they kidding? The house had a dining room, a piano and a library, and it sounded like a place where you'd go for tea and sympathy, not to share a friendly beer with your pals. The name wasn't even Greek, but came from an American poet, of all people, who famously wrote, "Whoso would be man must be a nonconformist" -- an odd mantra for a fraternity, an organization usually predicated on the idea that its members share common activities, interests and values.
But ELS was about nonconformity. Its house was the home of the non-fraternity fraternity, for people who either weren't accustomed to having brothers or already had enough of them at home. Its members were individualists who lived on a diet of decent food and lively conversation. The building's ground floor social rooms were big enough, but not too big, for discussion and debate. On occasion, they also were host to more visceral forms of fun in which tea, it must be admitted, played a very limited role. But students in the humanities and the arts found the place highly sympathetic; some hung around even though they weren't members, and even though (starting in the late '60s) they were women.
Faculty members were always welcome in the house and happily accepted the invitations of their students to attend cocktail parties, banquets and just plain ordinary lunches and dinners. Even when teachers weren't there, they were present. In the dining room a cluster of English majors, lingering long after dessert had been served, might be grappling with topics of current interest: a Henry James novel, a tale by Hawthorne or the eccentricities of their professor.
On a campus largely known for its civility, the ELS house was about the most civilized place around, where students and teachers could get together in relaxed circumstances to learn from, and about, each other. It was also a great place to come in and warm up over a cup of coffee, no matter which side of the campus you were coming from. And so it will be again -- all these things -- in a new life made possible by gifts to the Excelsior Campaign.
An Extended Village for the College Community
As a small, residential college, Hamilton has advantages that larger, more impersonal institutions cannot match. In larger places, meaningful relationships between their students' academic and residential lives are much more difficult to achieve. At Hamilton, by contrast, we are constantly working to integrate the College's residential environment with its academic mission. That work will be furthered considerably by the expansion and renovation of the ELS house.
The Beinecke Village, built in 1993, was, to date, the most important step in this direction. It put the Mail Center, diner, events barn and student lounges in a location accessible to both the old Hamilton campus and the newer Kirkland side. The Little Pub and the Annex were then created to provide more spaces for social interaction and events, student meetings and other group functions. Even more recently, the new residence halls made from former fraternity houses have increased the quality and variety of student living spaces. And Martin's Way, the path between the campuses, has successfully served to tie the whole community closer together.
Despite these improved residential and social spaces, many Hamilton students continue to lead academic and residential lives that are highly compartmentalized. They are reluctant to mix their intellectual and social activities and find neither the encouragement nor the incentive to do so in the spaces now available to them.
The ELS house, centrally located near Beinecke, offers an ideal opportunity to extend the capacity of our student village and create a place where students and faculty members can come together outside of (but close to) the classroom to discuss their work in a relaxed atmosphere and enjoy each other's company outside the formalities of classroom protocol.
A New and Expanded ELS
While retaining much of the look and charm of the old ELS house, the College plans to expand the building's footprint by adding a new structure to the south -- closer to Beinecke -- of approximately the same size as the original.
The old and new sections will be connected by a glass atrium containing a coffeehouse designed to serve the College community at large. The café will be fronted alongside Martin's Way, making it readily accessible to everyone making the trip between the north and south campuses. We expect it to be a casual and convenient meeting place for students and teachers, and as such, an extension of the classroom "disguised" as a social space.
The elegant ground floor of the old ELS house will become a lounge where beverage sippers with a little time to spare can relax, chat or just come in from out of the cold. The café and lounge will be open all day and into the night, when they can also be used for social gatherings, small-group musical performances or other alcohol-free entertainment events.
The original building's upper floors will be reconfigured to provide much-needed offices and meeting spaces for student clubs, associations and organizations, of which there are more than 100 on campus. When not in use for meetings, these spaces will also serve as hideaways for students who want to catch up on their reading or get some work done between classes.
The ELS house will thus become a place where a diverse range of people can share their common interests and enthusiasms, in everything from chess to Japanese animé. Administrative and judicial bodies for the student population will convene there, as will other groups charged with bringing entertainment to the Hill, organizing special events and publishing student media. The Womyn's Community Center, which raises awareness of women's issues on campus, may be one of the new tenants -- another appropriate nod to ELS's history; it was the first Hamilton fraternity to accept female students.
The presence of all these organizations will guarantee an almost constant flow of people in and out of the building. Each day, a larger and more diverse mix of students will converge in this space than anywhere else on campus.
The new building to the south of the original ELS house will contain offices for the Dean of Students, the Registrar, the Higher Education Opportunity Program and other functions.
The project to expand and renovate the ELS house will be coordinated with changes at Beinecke and the Bristol Center to make the best and most efficient use of all the community spaces on campus. New study areas will be created on the third floor of Bristol. The College radio station will be moved from Bristol to Beinecke, possibly at the juncture of Martin's Way, making it a more visible presence on campus. Over the fireplace lounge in Beinecke a floor will be added to create another space for student organizations. The lounge itself will become a reservable social space for small gatherings. The new ELS complex will also contain a meeting room for the Student Assembly -- and other student groups -- a contemporary variation on the trustee room upstairs in Buttrick Hall.
As funds come in for the further development of these projects, some of the details may change, but the main purpose will remain the same: to provide a variety of extracurricular places in which students can continue the four-year conversation, among themselves and their teachers, that constitutes a Hamilton education.
For the expansion and renovation of ELS and related facilities, the Excelsior Campaign plans to raise $5 million.