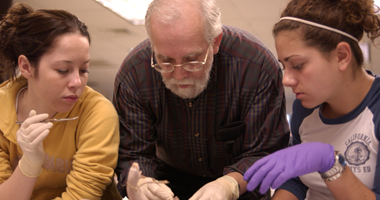 Unrestricted Giving
Ensuring excellence every day
The Annual Fund: Directly to the Heart of the Institution
Russell Blackwood, a professor of philosophy and religion at Hamilton for more than 40 years, has been known on Commencement day to bid farewell to his protégés with two parting reminders. "The real is the rational, and the rational is the real," he says. "And don't forget the Annual Fund!"
Not many Hamilton alumni do. In 2005, 53 percent contributed to it, ranking the College in the top 1 percent of colleges and universities nationally in alumni participation. A record total of $5.45 million was contributed by Hamilton alumni, parents and friends, about 50 times more than the year Professor Blackwood arrived on the Hill.
Back then, when Hamilton's endowment was relatively small and generated a modest amount of income, the Annual Fund was the College's major source of external support. Today, endowment income plays a much bigger role, but there is still no substitute for the Annual Fund.
The difference between the endowment and unrestricted giving is literally a matter of time. The endowment is the College's legacy fund, a means for the past to ensure the future. The value of an endowment gift is the income it will produce, and when wisely invested, it grows more potent with time, ultimately supporting generations of Hamilton students and teachers to come. Endowment gifts to the College are like nutrients for the body that enter the bloodstream slowly and in time provide sustenance for all its parts.
The Annual Fund, by contrast, is all about the present. It provides current income and immediate benefits that go directly to the heart of the College. That's why, during the Excelsior Campaign, as Hamilton seeks funding for building projects and the endowment, it needs more support than ever for the Annual Fund.
A Margin of Excellence
Why do Hamilton alumni support the Annual Fund with such unfailing generosity?
Perhaps, to borrow a word from Mr. Blackwood, we have rational reasons for doing so. We know that without unrestricted funds, our College would be diminished in a variety of painful ways. Subtract them from faculty support, and the College's student-teacher ratio would jump from 9-1 to 12-1; remove them from financial aid, and a third of our students on aid would go elsewhere; take them from the physical plant, and in winter everyone would go elsewhere -- just to find a heated room.
We know that the Annual Fund supports the overall quality of our students, our faculty and the environment in which they live and work. We may even be aware that it also enables the College to act nimbly and decisively at moments when doing so can make a real difference; e.g., providing just a little more financial aid for the promising student who would otherwise choose another school; enhancing a start-up package for a brilliant young teaching candidate; keeping the library open later at night before and during exam periods; adding an adjunct professor and an extra section to a language class when all the others are fully subscribed; replacing a worn-out exercise machine in the fitness center with a new one; or defraying the expenses of faculty members who invite students over for a home-cooked meal and a talk about Beethoven or biochemistry or baseball.
In short, the Annual Fund not only helps keep Hamilton going from day-to-day, but also provides it with a margin of excellence that distinguishes it from most other colleges. As alumni, parents or friends of the College, we have an interest in maintaining this distinction: a perfectly rational explanation for why most of us choose to support the Annual Fund year after year.
Excellence to the 100th Percent
But suppose it just isn't so? What if, all along, we've paid shamelessly little attention to what the College does with our money?
What if it's something else that motivates us to give? What if the rational reasons are not the real ones?
What if most of us are like Eldred Ross?
A few years ago, as Annual Fund gift chairman for his 60th reunion, Eldred led the Class of 1940 to a 100 percent participation level. The next year, though determined to repeat the achievement, he found himself several gifts short with time running out. Some last-minute checks arrived in his mail, but one was still missing, from a hard-to-reach fellow living in Watertown, N.Y., about 250 miles from Eldred's downstate home.
With not a moment to spare, Eldred got into his car and drove directly to Clinton. He dropped off the checks at the Alumni Office, then traveled farther north to Watertown, where he found his elusive classmate and secured the final gift. As evening fell and the deadline drew nearer, he drove back to the Clinton post office, mailed the check to the College and proceeded home, arriving well after midnight. He had logged more than 600 miles in one very long day. Result: 100 percent participation.
Would any reasonable person (much less an octogenarian) have undertaken this journey, this single-minded pursuit of excellence to the 100th percent? Surely not. Eldred Ross was moved to do it by the least rational of all emotions: love. In his case, love of the College he still feels a part of, more than 60 years after graduation.
Although few are as fervent as Eldred, every alumnus can feel that he or she is still a part of Hamilton by making a gift to the Annual Fund. That feeling of belonging runs especially deep in those who could not afford to come here without financial assistance. Many say they wish to put back, as it were, what they took out. For them, unrestricted giving is a link between the present and the permanent, between what they accomplish now and what survives them. It is a way to ensure that history repeats itself, that one generation supports the next, that the investment in promising young students is a cycle that continues. There is a sense in which all Hamilton students who receive financial aid from the College are the sons and daughters of alumni.
The Present and the Permanent
If you've never made a gift to the Annual Fund, we hope you'll use the Excelsior Campaign as the occasion to begin.
We urge the rest of you -- the thousands of Hamilton alumni, parents and friends who donate each year -- to increase your level of Annual Fund giving. It's the easiest and most effective way to contribute to the campaign. And even if you're also supporting other Excelsior projects, remember that the Annual Fund is the direct lifeline of the College. We won't succeed if we obtain capital gifts at the expense of unrestricted ones, and our new buildings will be of value only if we can fill them with the exceptional teachers and students that annual giving helps bring to the Hill each year.
Please help us extend the margin of excellence for Hamilton by giving to the Annual Fund. Whether your reasons are rational or emotional, the benefits to the College are indelibly and indispensably real.
Goal: $40 million