Faculty
Eugene Domack, Ph.D.
Professor of Geosciences, Hamilton College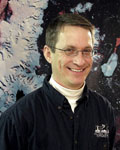 Hamilton Geology Professor Eugene Domack has 25 years of Antarctic experience, the last 15 in the Peninsula region. He is interested in understanding the natural record of environmental variability locked in glacial marine sediments in fjords and inner coastal basins on both sides of the Peninsula. He is currently investigating the paleorecord of Antarctica's disintegrating ice shelves. Domack's research is made possible by funding from the National Science Foundation Office of Polar Programs. Contact Professor Domack at edomack@hamilton.edu.
More about Gene Domack ...
Stefanie Brachfeld, Ph.D.
Assistant Professor of Earth and Environmental Studies, Montclair State University

Stefanie Brachfeld joined the Montclair faculty in 2003. She earned her masters degree in Earth and Planetary Sciences at the California Institute of Technology, and her Ph.D. in geophysics at the University of Minnesota. Brachfeld specializes in magnetic methods, which she applies to geophysical and paleoclimate studies in the Antarctic, North America, and the North Atlantic. Brachfeld has participated in five marine field expeditions aboard the RVIB Palmer, the JOIDES Resolution, and the Marion Dufresne. Her work is supported by the National Science Foundation Office of Polar Programs, and the Office of International Programs, Western Europe division. Brachfeld's work is published in such journals as Earth and Planetary Science Letters, Journal of Geophysical Research, and Geology. Contact Professor Brachfeld at brachfelds@mail.montclair.edu.
More about Stefanie Brachfeld ...
Brachfeld published "Holocene history of the Larsen-A Ice Shelf constrained by geomagnetic paleointensity dating," in the Sept. 2003 issue of Geology.

Bruce Huber
Senior Staff Associate, Lamont-Doherty Earth Observatory, Columbia University
Bruce Huber is a Senior Staff Associate at Lamont-Doherty Earth Observatory of Columbia University. He has 30 years' experience in physical oceanographic field work in the tropics, subtropics, and southern ocean. He has been working in the Antarctic since 1981, and has had the pleasure of working with the German, Soviet Union, Russian, Italian and Brazilian Antarctic programs as well as the US program. Most recently, he has been engaged in the design, construction, and deployment of oceanographic moorings in the Ross and Weddell Seas, Antarctica; Makassar Strait, Indonesia; the Delaware River plume; and the Hudson River. His research on this trip is funded by the National Oceanographic and Atmospheric Administration (NOAA), and is focused on the circulation of deep and bottom water exiting the Weddell Sea. Please visit the project web site for additional information. Contact Professor Huber at bhuber@ldeo.columbia.edu
More about Bruce Huber ...

Amy Leventer, Ph.D.
Associate Professor of Geology, Colgate University

Amy Leventer has been a member of the Colgate University faculty since 1997. She earned her master's degree in marine science at the University of South Carolina and her Ph.D. in geology at Rice University. Specializing in polar marine diatoms, Leventer has participated in more than a dozen seasons of field research in Antarctica. She has published her work in journals such as Nature, Marine Geology, and Geological Society of America Bulletin. Leventer's research has been supported by grants from the National Science Foundation. She received her Antarctic Service Award in 1984. Contact Professor Leventer at aleventer@mail.colgate.edu.
More about Amy Leventer ...
Leventer published two chapters in Sea Ice: An Introduction to its Physics, Chemistry, Biology and Geology titled "Particulate Flux from Sea Ice in Polar Waters" and "Palaeo Sea Ice Distribution - Reconstruction and Palaeoclimatic Significance."
Tony Rathburn, Ph.D.
Assistant Professor of Geology, Indiana State University
Associate Research Scientist, Scripps Institution of Oceanography
Tony Rathburn joined the Faculty at Indiana State University (ISU) in 2001, and has been a researcher at Scripps Institution of Oceanography (SIO) since 1995. He earned his master's degree in geology at the University of Vermont and his Ph.D. in geology at Duke University. He was a postdoctoral scientist at the Australian National University and at SIO, and taught at the University of San Diego before coming to ISU. Rathburn specializes in the ecology and geochemistry of deep-sea benthic foraminifera, and has participated on 37 research cruises. He has wintered-over in Antarctica, and his polar field experience includes research in the Australian sector of the Antarctic. Rathburn's research has been supported by grants from NOAA and NSF. He received his Antarctic Service Medal in 1984. Contact Professor Rathburn at gerathbu@isugw.indstate.edu.
More about Tony Rathburn ...

Galen Pippa Halverson, Ph.D.
Université Paul Sabatier in Toulouse, France
Galen Halverson is currently an NSF-funded post-doc at the Laboratoire des Mecanismes et Transferts (LMTG) at the Université Paul Sabatier in Toulouse, France. Halverson completed his Ph.D. in Geology at Harvard University in 2003 on the chronology and the evolution of marine δ13C during the Neoproterozoic Era (1000 – 542 Ma), which spanned at least two severe glaciations of global extent. Halverson, a stratigrapher and isotope geochemist, has carried out most of his fieldwork in the Arctic and southern Africa and will soon initiate a new field project in Australia. Funded by NSF (Earth System History, Sedimentary Geology and Paleobiology, Arctic Sciences) and NASA Astrobiology, his work has centered on reconstructing long-term changes in the chemistry of the ancient oceans as preserved by a variety of isotopic proxies (δ13C, δ34S, 87Sr/86Sr, δ57Fe) and as a record of biogeochemical cycling, climate change, the redox state of the biosphere, and tectonic and geodynamic events. This will be Halverson's first trip to Antarctica. Contact Galen Halverson at halvers@eps.harvard.edu
Halverson published "Toward a Neoproterozoic composite carbon-isotope record," in the Sept./Oct. 2005 issue of GSA Bulletin.

Veronica Willmott Puig
Co-director, Antarctic Program, Hamilton College
Veronica Willmott recently arrived at Hamilton College to co-direct the Antarctic Program. She earned her master's degree in Earth Sciences at the University of Barcelona, Spain. She has participated in two Antarctic research cruises, while in Spain with the GRC Geociencies Marines research group, and last year with the Hamilton College Antarctic Program. She has four years of experience with Antarctic marine sediments. Contact Veronica Willmottat vwillmot@hamilton.edu
Willmott published "A high resolution relative paleointensity record from the Gerlache-Boyd paleo-ice stream region, northern Antarctic Peninsula" in Quaternary Research.

Michele Rebesco, Ph.D
Istituto Nazionale di Oceanografia e di Geofisica Sperimentale,
Trieste, Italy
Michele Rebesco is a researcher of the Istituto Nazionale di Oceanografia e di Geofisica Sperimentale (OGS) in Italy, where he coordinates the Marine Geology research group. He has been working on Antarctic themes since 1992. His Ph.D. thesis was on the seismostratigraphy of the sediment drifts of the Pacific margin of the Antarctic Peninsula and later specialized in bottom-current-controlled deep-sea sedimentary processes. He has participated in four Antarctic cruises, three on board the R/V OGS-Explora (aimed at acquiring multichannel seismics, gravity cores, oceanographic data and multibeam bathymetry in of the Pacific margin of the Antarctic Peninsula) and one on board the JOIDES RESOLUTION (aimed at drilling three sites in Prydz Bay-Cooperation Sea within ODP leg 188).
Contact Michele Rebesco at mrebesco@ogs.trieste.it
Rebesco published "Margin architecture reveals the transition to the modern Antarctic ice sheet ca. 3 Ma," in the April 2006 issue of Geology.

Giampaolo Visnovic
Istituto Nazionale di Oceanografia e di Geofisica Sperimentale,
Trieste, Italy
Gianpaolo Visnovic has worked 15 years for OGS-National Institute of Oceanography and Geophysics as a Seismic Technician in offshore and on land seismic acquisition and oceanography. Visnovic is a specialist in marine seismic data recording, Air Guns systems, core system and oceanography acquisition data. He has participated on eight Antarctic expeditions on board research vessels for the Antarctic Italian Program (PNRA) as well as many seismic and oceanography cruises. Contact Gianpaolo Visnovic at pvisnovic@ogs.trieste.it


Fabrizio Zgur, Ph.D.
Technologist, Istituto Nazionale di Oceanografia e di Geofisica Sperimentale, Trieste, Italy
Fabrizio Zgur joined OGS in 2001. He earned both his degree in Geology and his Ph.D. in applied geophysics at the University of Trieste, specializing in multichannel seismic data acquisition and processing. Since 2002 he is permanent member of the support staff of the r/v OGS Explora, where he is in charge of instrumentation maintenance and data acquisition: his activities range from multibeam to sub bottom profiler and multichannel data acquisition. He participated in one field expedition to Antarctica (Antarctic Peninsula) and Chile, and to various Mediterranean Sea cruises. From December 2005 to February 2006 he will take part to his second expedition to Antarctica (Ross Sea) on board the r/v OGS Explora. Contact Fabrizio Zgur at fzgur@ogs.trieste.it