Log of Tasmania Field Course
June 8:
Today we left the confines of Hobart and began our road trip out into the bush. Over the next week we will engage the wilderness of Tasmania's World Heritage Site, the rugged West Coast Range, and the wind swept West Coast, the NW region and Bass Strait coast, and the cave regions of north central Tasmania. Our first destination was the Valley of the Giants, huge swamp gum trees (Eucalyptus elegans) which are the tallest hardwood trees (and flowering plants) in the world. We were not to be disappointed as we made our way to Russell Falls (in Mt Field National Park) and the Styx River State forest.

June 9:
We left the comfort of our accommodations at Giant's Table and drove the longest trek of our entire journey to the West Coast Town of Strahan. During this day trip we crossed into the true wilderness of the World Heritage Site and viewed some of the most distinctive flora and landscapes that any of us have seen.
June 10:
We awoke to the amazing blue skies over the Hentey Beach and Dunes, with a clear view of the Southern Ocean to our west and the distant ranges of the NW Tasmania coast. Usually even in summer this coast is shrouded in fog and with pounding surf. It is the largest sand dune complex on the coast of Tasmania, expansive, sand, drift wood, and with the cool smell of eucalyptus. We could not have wanted for a better start to our second week in Tasmania.
We traveled to Mt Cradle National Park and planned our various treks for the next day. Again good weather followed us to the park, were for at least a few minutes the summit of Cradle Mtn. was free of cloud, but not snow.
June 11:
Day 10 was our biggest adventure of the trip as we planned three different hikes for three groups (each of different skill level and experience).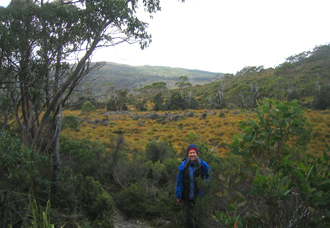 June 12:
We left Cradle Mountain National Park and headed into State Forest which quickly turned into an alternating patchwork of clear fell (clear cut) and tree plantations. The older plantings are still of the Monterey Pine (an introduced species) but the newer plantings are of native gum trees.