Message from the Dean
Dear Parents,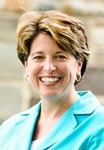 Your child's college education is one of the largest expenditures you will make in the next few years; it is also one of the most important.
At Hamilton College, we're committed to making your child's education affordable. In fact, we're one of fewer than four dozen U.S. colleges and universities that not only meets the full demonstrated financial need of all students, but also admits students without considering their families' ability to pay. This year, that commitment means we will provide more than $38 million in scholarship aid to about half of our students. Our average financial aid award is more than $45,553.
If our financial aid methodology shows that you can pay only a small percentage of our tuition and fees, our financial aid package will cover the difference for all four years at Hamilton. And for those who qualify for little or no financial assistance, our financial aid team will work with you to explore the best
options for your family to finance the gift of a Hamilton education.
We take very seriously the investment you are making in your child's education, and we hope to have the opportunity to demonstrate that commitment to you in the future.
Most sincerely,
Monica Inzer
Vice President and Dean of Admission and Financial Aid

If your family would like to receive more information from Hamilton, please provide us with your child's contact information.