Meet Our Google Ambassador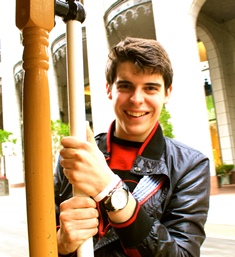 My name is Jose Vazquez '15 (government major with a minor in education studies). I was chosen by Google to come back to the Hamilton College campus to not only promote Google products but help student groups, faculty, and staff innovate with their existing Google Apps for Education (Gmail, Drive, Slides, Forms, etc.).
This means that I am able to work with a broad range of students/faculty/staff who simply want to become more efficient in their daily routine. Whether that means teaching a professor to use Google Forms for class surveys or presenting to the Campus Activities Board ways in which Google+ can help promote their events. Not to mention, the multiple one-on-one consultations I have done to assist a student who is trying to streamline his group project through Google Docs or a staff member who is attempting to filter certain emails.
My role at Hamilton College includes collaborating with ITS and getting students, faculty, and staff familiarized with all the Google Apps that our HillConnect accounts can offer. Of course, I also get to promote great events like the YouTube Music Awards and provide demos for newly released products (Nexus 7 tablet). If you have any questions, feel free to contact me at jevazque@hamilton.edu.