---



October 2010
From the Editor

- Maureen Scoones

October is Cybersecurity Awareness month. This issue highlights safe online behavior. Remember, passwords are like underwear: the longer the better, change them often and don't share them with friends!

Cybersecurity Awareness Month
- Maureen Scoones

Although Cybersecurity Awareness Month is observed during the month of October, online safety should be observed year round. A few tips from StaySafeOnline.org.

Pack it up and take your laptop with you, even if you intend to be right back. Unattended laptops in public places like the library, study lounge, and coffee shops are an invitation for theft or unwanted access to your information.
Back up your computer files regularly so you don't lose important files, assignments, cherished music or photos. Keep backed up files in a safe, secure location away from your computer (ESS or SSS).
Be cautious about how much personal information you provide on social networking sites like Facebook, MySpace, and Twitter. The more information you post, the easier it may be for a hacker to use that information to steal your identity or access your data.
Learn about and use the privacy settings on social networks.
Practice caution when using free file-sharing programs. These sites are notorious for distributing malicious software (malware) that can be used to steal your passwords and other personal information. Music, video and game files on these sites are often pirated, and could put you in violation of copyright laws. If caught, you could be subject to stiff penalties, including fines and prosecution.

More tips on what you can do to stay safe online...
---
Creating a Strong Password That You Can Remember

- Dave Smallen

We all have many electronic accounts we use to manage our lives (e.g., e-mail, Facebook, LinkedIn, health care provider, bank, retirement account, companies from whom we purchase items). Each comes with a username and password. In the ideal world we would have separate strong passwords for all of these accounts, but most of us use the same password for several of the services. Recently, several people at Hamilton who used their same (weak) password for their Facebook and personal e-mail accounts had both compromised. It took them weeks to get their electronic lives back to normal.
The most important thing you can do to protect yourself from the bad guys on the Internet is to use strong passwords (meaning hard to guess, even by a computer). Here is a technique I have used.
You probably have heard that strong passwords should have both letters (upper and lower case) and numbers and/or special symbols and be at least eight characters long. Sound too complicated? One way I have found to come up with such a password is to start with a phrase that is meaningful to you. This can be from a favorite novel, poem or saying. For example, "learn from the best." Start by taking the first (or last) letter of each word:
lftb
Now capitalize the first and last letters
LftB
Now add some numbers that are meaningful to you
LftB-052478
This may look complicated (and it is to anyone else) but you will not have problems remembering it.
It may take you a few more keystrokes to enter your password, but in the grand scheme of your day the few extra seconds will help you get those extra minutes back at night in the form of restful sleep.
SiteManager Update

- Maureen Scoones
If you are interested in learning how to maintain your own website using Hamilton's own web editing tool, SiteManager, check out the November class and working session schedule.
If you edit an official College page and already attended a class and want editing rights, please sign up for a working session. For the working session you'll need to:
Plan to work on your pages for at least one hour
Come to the session with a list of your needed changes
Come to the session with any questions you have about how your current content is formatted.
Please take a few moments in advance of your session to review the web and editorial style guidelines.
If you have missing content or broken links, please report these to emedia@hamilton.edu. In many cases, you won't be able to fix missing content, even if you have editing rights.

During the session you will work on your pages and be able to ask questions as they come up. If you encounter a problem with the tool, we'll be able to suggest a work-around so that your first editing session is productive and stress-free!
How to Check Your PaperCut™ Balance
- Karen Schaffer
You can find the details of your PaperCut balance one of two ways:

1. Via the web at: https://printx.hamilton.edu:9192 and enter your Hamilton Username and Password.

or

2. Click the PaperCut icon in your Dock (Macintosh) or System Tray (Windows) and click the Details... link.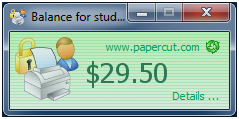 Your account Summary is displayed, with details available on environmental impact, printing usage, and much more. More questions about PaperCut? Visit our FAQ page.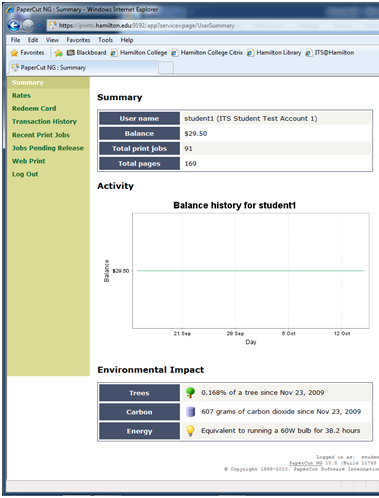 back to top
What Students Bring to Campus - 2010 Update
-Dave Smallen
Each year we survey entering students about the technology they are bringing to campus. For the class of 2014 here are the results:
98% brought computers, 60% of which run the Macintosh operating system
96% brought cell phones (2/3 of which are smart phones capable of accessing the Internet)
90% brought MP3 players such as an iPod
46% brought printers
In terms of software they have used, the top three are:
98% have used Facebook
97% have used PowerPoint
86% have used Excel
The three most popular cell phone carriers are.
Verizon - 54%
AT&T - 33%
Sprint 7%
Staying Connected: Videoconferencing using Skype and HillConnect Chat -Ted Fondak
It's cliché but true: "Home is where the heart is"—it can be difficult to be physically isolated from family, friends, and colleagues. Thankfully, there are more options than ever to create connections. Phone calls, the traditional bastion of long-distance communication, are so five years ago. So-called "VoIP," or Voice/Video-over-IP, programs such as Skype now enable face-to-face conversations around the world and have become very popular by dint of ease-of-use and the high-quality experience they provide.
Unfortunately, you may also have heard of or experienced difficulties using Skype on the Hamilton network. The problem manifests as mid-conversation interruptions or difficulties establishing a conversation at all. Some users even report losing their internet connection entirely and are confronted by a remediation page requesting that they contact the Help Desk. Our research and troubleshooting efforts have yet to yield a solution to enable Skype to operate on our network without issue—commercial developers do not provide the detailed information about the arrangements of their software ITS needs to find a quick solution.
We will continue to strive to make Skype work well on our network. Meantime, we strongly encourage current users of Skype to try the Chat functionality in HillConnect. The video and audio chats are higher quality than Skype and it has operated without issue on our network since launch. The chat is available and active by default and can be found beneath your labels. You can quickly and easily add other Hamilton and Gmail users to your contact list by typing their names in the field below your name. To start a video chat, click the camera icon in the chat window while having a normal text-based chat. You will have to install a plug-in to enable video conversations. Simply follow the instructions after clicking the camera icon and you will enjoy a high-quality face-to-face conversation in short order. Also check out this handy introductory video for more information.
Happy chatting!
Adding a Signature to Your E-mail -Maureen Scoones
What information should your e-mail signature contain? Any information you consider important to your recipients. Suggestion - add your telephone number to your signature, even for internal messaging, to streamline timely communication.
Instructions to create/edit your signature in HillConnect
Instructions to create/edit your signature in Thunderbird
What Does the iPad Replace?
- Dave Smallen
I've been using an iPad for the last couple of months, in part to try to determine what it does well and whether it could replace any of the other electronic devices I use (iPhone, laptop computer, first generation Kindle). Here are my early conclusions:
The iPad is a replacement for paper. That is, I no longer print anything that I want to read. Instead I transfer the document to the iPad and read it on the iPad screen. To do this efficiently I use a free application called Dropbox that runs on my computer and on the iPad (it also runs on most other mobile devices). To transfer documents from the computer to the iPad I just place them in a Dropbox folder and a few seconds later they appear on the iPad.
I have the free Kindle application (which I also have on my iPhone) so I can also read books – most of which I purchase from the Amazon Kindle store. The larger iPad screen makes reading text work better than on my phone and comparable to the Kindle.
The iPad currently does have applications that are capable of word processing and spreadsheets, but the applications are not powerful enough to replace my computer. I can remotely use my computer using an application called Jump, but over the Internet, the access to my computer is very slow, not useful for doing anything other than opening documents I may have left behind.
The iPad is great for accessing e-mail, calendaring and web sites - things that I otherwise can do on my computer or iPhone. I'd like to use it for taking notes at meetings, but I don't want to have to type the notes – I find that distracting. I want to take notes freehand and unfortunately the iPad technology doesn't yet do that very well. It is currently optimized for control by your finger not a stylus.
Of course, there are many other applications ("apps") being developed that take advantage of the mobility of the device and the larger screen, but most of those I can do on my phone, and the iPad is NOT a phone (I can't make calls – or put it in my pocket) and does not have a built in camera.
As I said last month, this is a first-generation device that will invariably get more capable over time. For now, I view this as a device that sits somewhere between a smart phone and a laptop computer, in the same general area as a netbook computer. That's the topic for next month.
---