4CE53030-CF0C-67E7-7D845E0B5CDEC0DD
98879274-C8B0-9768-5077D77199699323
Creating a Scheduled Backup and Restoring Files from Backup
Create a New Backup
Navigate to Start - Control Panel - Backup and Restore.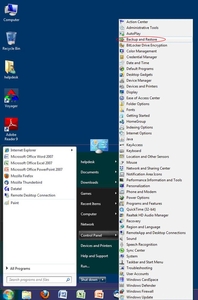 In the Backup and Restore Center, click Set up Backup.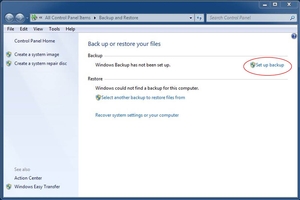 Wait a few seconds for the program to initialize.
When the Set Up Backup Wizard appears, select the Save on a Network button.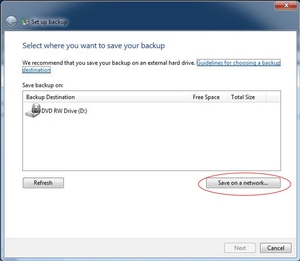 In the Select a network location screen:

In the Network Location field, type "\\ess\Users\<$yourusername>," e.g. \\ess\Users\tfondak.
In the Username: field, type "HAMILTON-D\<$yourusername>," e.g. HAMILTON-D\tfondak. Type your password in the Password field.
Click OK.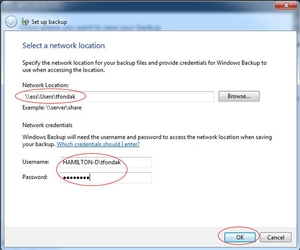 On the screen that appears, choose Next.
On the What do you want to back up? screen, select Let Me Choose. Then click Next.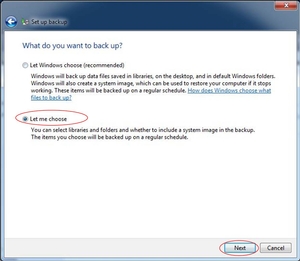 Uncheck all Data Files and Include a system image of drives (C:)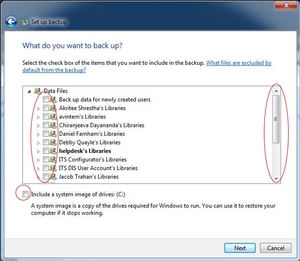 Scroll down to Local Disk (C:) > Users > Your Username.
Check "Documents", "Desktop", "AppData", "Contacts," and "Favorites."
Click Next.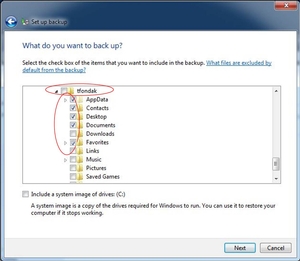 In Review your backup settings, click Change Schedule.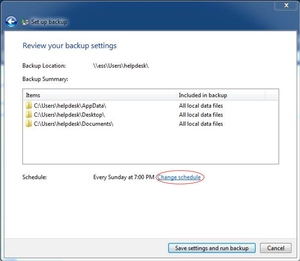 Alter the settings to suit your needs. ITS recommends scheduling a weekly backup that runs shortly before you leave on the last day of your business week, e.g. Friday at 4:00pm. The backup process is brief, so you will be able to shut down your computer at the end of the day without a problem.
Click OK.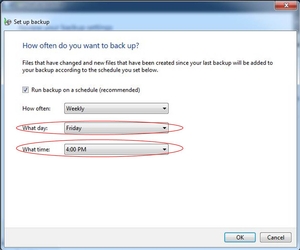 In the Review your backup settings screen, select Save Settings and Run Backup.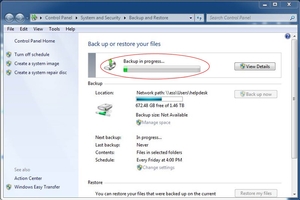 Your first backup will start and the wizard will close, presenting you with the Backup and Restore Center where you started. You will notice activity: a progress bar will display the status of your backup. Feel free to close the window and resume your work.
Restoring Files from Backup
Navigate to Start > Control Panel > Backup and Restore.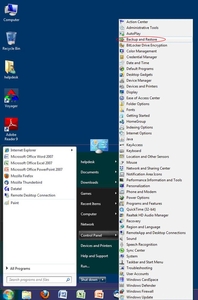 In the Backup and Restore Center, select Restore My Files.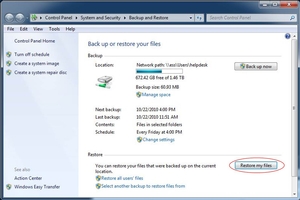 In the window labeled Browse or search your backup for files and folders to restore, select the Browse for Files button.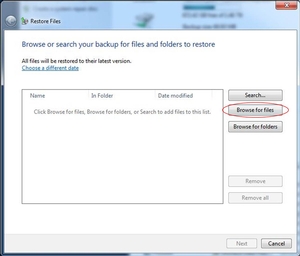 Find the file you would like to restore by navigating through the folder structure. In the example provided here, I am restoring the file ChromeSetup.exe in my Desktop folder. Note the standard Address Bar on top, which will provide a bread-crumb trail for you to follow through the hierarchy.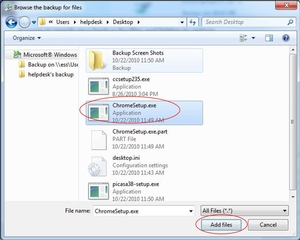 Nota bene: You may select multiple files at one time. Click Add Files when finished.
You will return to the File Restore screen. If you need to restore multiple files, feel free to click Browse for Files/Folders and repeat Step 4 until you have selected all of the files you wish to restore.
Click Next when you are ready to restore the files.
Select In the Original Location in response to the question Where do you want to restore your files. This will make the items re-appear in the location whence they were removed.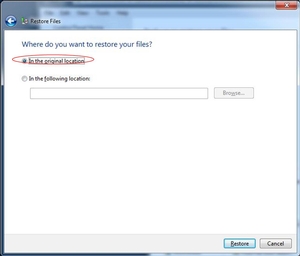 Feel free to select In the following location and Browse should you wish to restore the files elsewhere.
Select Restore.
Your files will be restored. Select View restored files to access them.