Welcome to CrashPlan – Test Drive
CrashPlan is a backup service that ITS is evaluating that provides the things you've told us are important when it comes to the backup of your desktop or notebook computer:
My quota is too small and I need more space. My ESS space does not sufficiently meet my needs
Set it and forget it. The solution needs to be unattended and automatic.
The backup can't bring my computer to a crawl.
I've customized my settings for Word, how can I include those in my backup?
Currently, you have a variety of different options for saving your data to backed up media. Even so we still will often run into issues when a computer crashes, or is lost and critical end-user data is lost in the process. This is most often due to people saving data to their machines locally, or applications which you are running which save important files to areas which aren't backed up. CrashPlan addresses this by running a background agent which scans the file system for changes to directories that it monitors and then sending those small changes to a designated backup destination. This process allows the machine to continue working at a high level while constantly backing up the machine. This process also reduces the likelihood of losing any critical data, as the backup window is small (15 minutes) unlike other methods of backup.
It is important to note that CrashPlan is a computer backup solution and not a file synchronization utility. While there may be an intersection between the functionality of both applications, there is a distinct difference. File synchronization utilities such as Dropbox, Google Drive, Microsoft SkyDrive and Sugar Sync make copies of your files and store them in a Cloud repository. As changes are made to those files, new copies of the files are sent to the repository and pushed down to wherever you have the clients installed. If you delete a file on your file synchronization app, it will be deleted from all clients. There is no backup of it provided by the application. There is also no compression of your files. File sync just provides a 1-to-1 copy across multiple clients and in the cloud.
CrashPlan is a true backup solution, in that it provides a defense for your computer against hardware failure and accidental file deletion. Your files are compressed and deduplicated to minimize the network traffic that they consume. This compression and deduplication also minimizes the amount of data that we need as an organization to store and send across our network.
CrashPlan should not be viewed as an alternative to other storage platforms, such as ESS, SSS or Academics, or a data archival solution but as a method of protecting data which lives on the desktop, from hardware failure or user error.
Getting Started With CrashPlan
To get started with CrashPlan you'll need to perform the following:
Go to http://crashplan.hamilton.edu:4280
Log in with your email address (user@hamilton.edu) as username and network password
Download and install the appropriate client
Make sure that you select Existing Account at the account creation screen
To get started with CrashPlan, you'll need to download and install the client on the main computer that you're using and need to have backed up. You'll need to
navigate to here: http://crashplan.hamilton.edu:4280.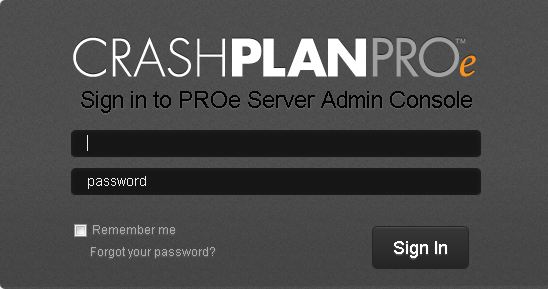 Please note, if you have a dual-boot system, you'll need to install the client on both OSes
At the username prompt, enter your email address
The password to log in is your network login password
Click on Sign In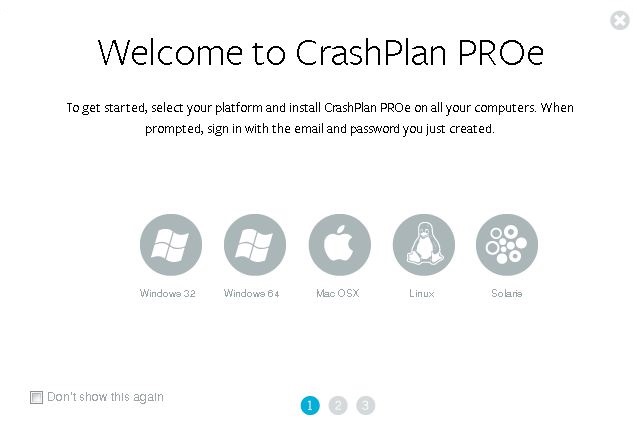 Once you're logged in, you'll be presented with the above. Select the appropriate file for your OS (Windows 64, if you're a Windows user, Mac OSX if you're a Mac user). After selecting the file, it will save a file to your Downloads folder, unless you specify otherwise. After this file downloads, Run it and it will install the CrashPlan client.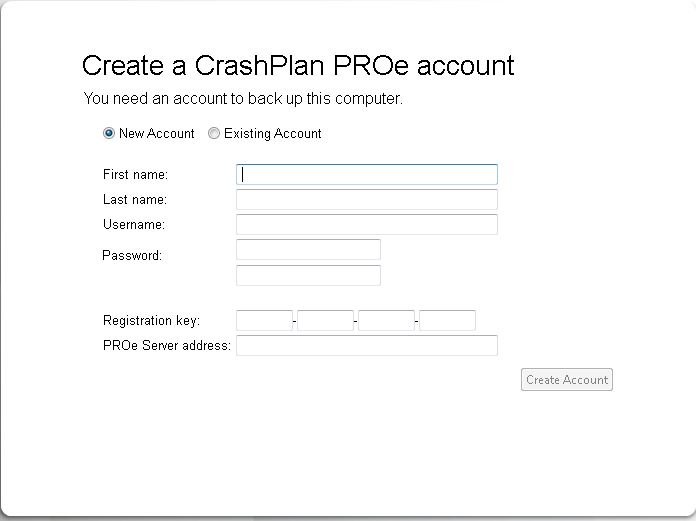 After the client has installed, you'll see the above box.
Make sure that you select Existing Account at this section.
Enter in the following information to complete your setup:
Username: enter your email address here
Password: enter your network account login here
PROe Server Address: crashplan.hamilton.edu
Configuring your initial backup
By default, with no interaction on your part, once you finish the installation the program will back up any user profile (C:\Users\ for PCs or /Users/ for Macs) that is not one of our administration profiles, and any files/folders at the root of your hard disk that we have not flagged as system files.
The initial backup will take some time. If you have a lot of data, it can take anywhere from hours, to days to complete.
Once you have the application installed, you'll have the opportunity to set the initial backup. By default this will not include any additional storage items that are not attached to your computer. This includes any USB keys, external hard disks, or your network drives (ESS/SSS/Academics). These devices should not be included as part of your backup set (If you need to backup any external hardware, please contact DIS and we can review the best way to meet your backup needs).If you need to include any additional files in your backup, you have the option to do so at this time. On the front page of the client, you'll see a Files section. Click the Change button and you'll be presented with a directory tree. Click the box with the needed files and folders and they will be added to your backup set. The initial backup will take some time. Depending on how much data you have it could be as little as a few hours or in extreme cases, a week or so. The client will throttle how hard it works depending on how actively you're using your machine.
Viewing your backup and restoring your files
To view your backup you'll need to open the CrashPlan client. You can do this by clicking on the icon in your system tray (Windows), or in the status bar (Mac). Click on the Restore tab on the left and you'll see your backup destinations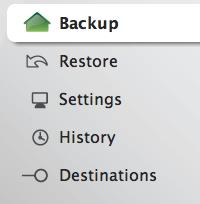 Select the correct machine and backup destination. Once you've selected these, you should see a directory tree.
Here you can search for files if you're looking for a specific file, or you can browse through the tree. Select the files you need by checking the boxes next to them and then hit the Restore button. When restoring files, you'll want to limit the activity you're doing on the machine if you're restoring a lot of data as this should make the restore faster.