Windows Lock Policy and Screen Saver


Why is there a Lock Screen Policy?
To minimize the risk of unauthorized persons gaining access to your personal and college data and related resources via your computer, it is a security best practice to automatically lock a computer after some period of inactivity.

As part of a campus wide security initiative, a lock screen / logout policy that requires the user to enter their network password to regain access is recommended. The changes and behaviors listed here pertain to Windows computers across campus.
What you will see:
Teaching classrooms
The computers in the teaching spaces that come from ITS are configured with an auto logoff setting at 55 minutes. The user will receive a prompt that will let them know they will be logged off due to inactivity. This result may vary as some spaces are managed independently of ITS and may vary however most ITS managed labs and classrooms will behave in this manner.
Public labs
Public labs have an auto logoff as well but this is set to 15 minutes. This applies to both Windows and Mac machines and will precede any screen saver or power saving function.
Office computers
After 15 minutes of inactivity, your computer is locked and your Screen Saver is activated. Hitting any key on your keyboard will bring you to the Lock Screen where you can press Ctrl+Alt+Delete then enter your password to unlock your computer.

By default the screen saver is set to "None" which results in a black/blank screen. Customizing your screen saver background is easy, see "How to Change Screen Saver". Please note you cannot alter the 15 minute wait time setting.

Power settings can impact the way your screen saver behaves. When Power settings are configured for an interval less than the screen saver setting (15 minutes) the Power setting overrides the Screen Saver setting and brings your computer to the Lock Screen according to the time interval set. See "How to Change Power Settings".
How can I change these settings?
Screen Saver:
The settings are easily altered from the "Personalize" menu. From the personalize menu when Screen Saver Settings is selected the user can then choose the screen saver of choice and set under which time frame the screen saver is to engage. Keep in mind that if a longer time is set the machine will still lock out after 15 minutes to the lock screen then requiring the password again.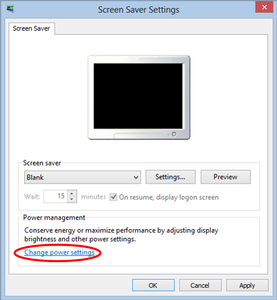 Power Settings:
Once in the Screen Saver Settings select the "Change power settings". On a desktop only one column will display showing the time in which the monitor will sleep and also the time in which the machine will go to sleep. On a laptop the user will see two columns one for plugged in power and one for battery power.