Back to Printing at Hamilton College
Installing the Printer
On your Mac, click on the Apple Menu and open System Preferences.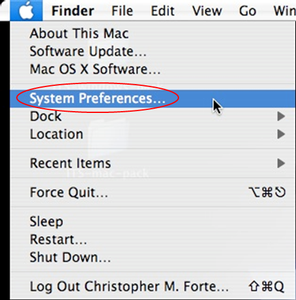 In System Preferences click on Print & Fax.
In the Printing tab, click on the little plus sign (+) in the left of the window. If the little plus sign is grayed out, click the lock icon below to authenticate and login to the system.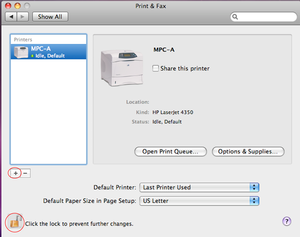 The Printer Browser will open. Please refer to the illustration below while following these steps:
Select the IP icon at the top. Then fill in the settings as follow:
Protocol: Line Printer Daemon - LPD
Address: printx
Queue: Add Printer Name – The printer name is comprised building name, room number and number of printers in the room (listed alphabetically.) e.g. MPC-B
Name: Same as Queue
Location: Leave blank.
Print Using: This should automatically select the correct printer model for your printer. If it does not, Select Select a driver to use… from the drop-down list beside Print Using and then the appropriate model from the next list.
Once all of those settings are configured, Click Add.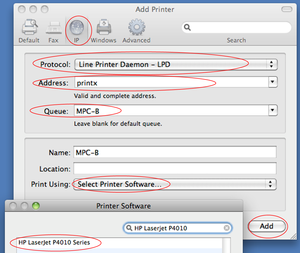 You will now be prompted to select the Installable Options for the printer. Configure the options that are available on the printer and click Continue. In the example to the right, the printer was equipped with a Duplex Unit. Your printer may not have the same options and you should adjust the settings accordingly.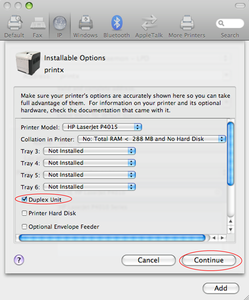 The printer will be added and appear in your list of printers. It will also be set as the default printer. If you would like another printer to be the default printer, select its name in the drop-down list next to Default Printer in Print Dialog. If you are finished configuring printers, close the Print & Fax window.