The following instructions will show you how to transfer your messages from your Hamilton email to your personal email account using a free email client called Thunderbird. Please note that Thunderbird is used here only to facilitate the email transfer and can be uninstalled after it's purpose has been served.
First, login to your Hamilton email account. Go to Settings [This is accessed by clicking on the gear shaped icon along the top right corner]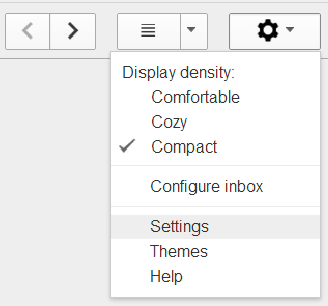 From Settings, select Forwarding and Pop/IMAP then choose Enable IMAP. Please repeat this step for the personal email account. Note: You can click on the image below to see a larger version of it.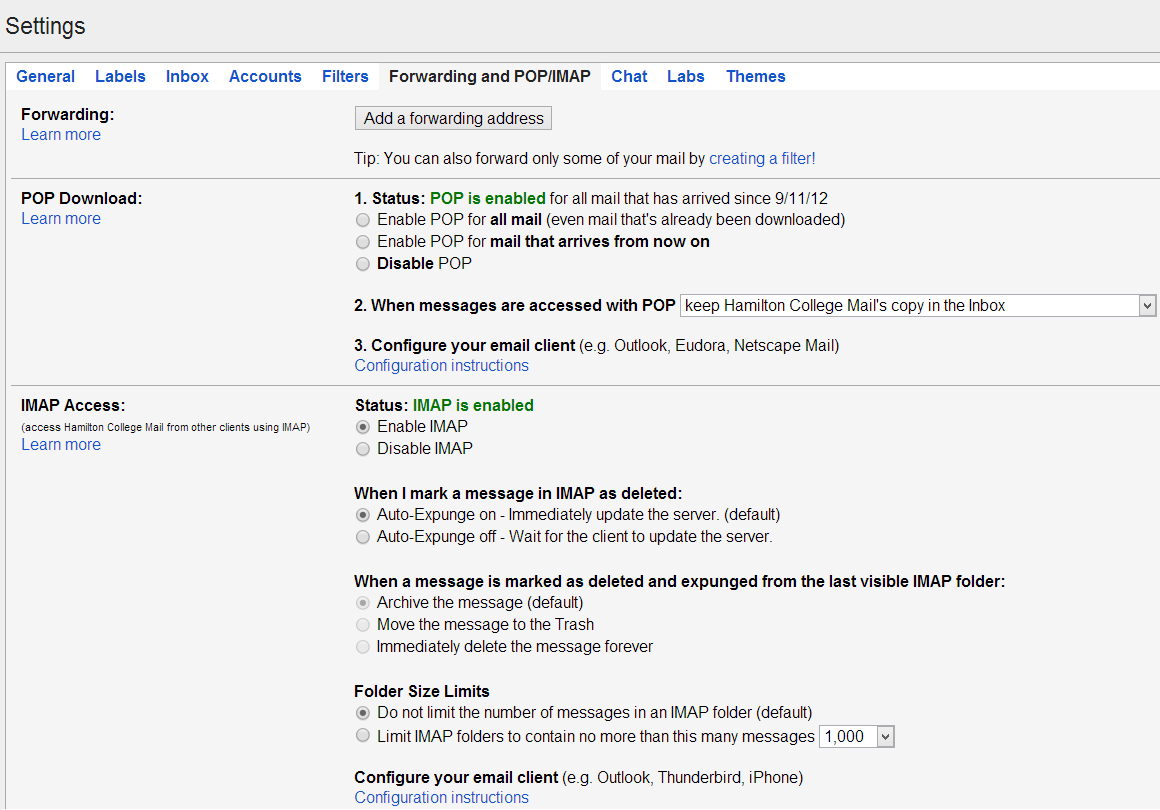 Note: If transferring mail to a non-Gmail account, you will have to enable IMAP from the settings for the account.
Installing Thunderbird
Go to http://www.mozilla.org/en-US/thunderbird/ to install the latest version of Thunderbird on either your Windows or Macintosh computer and follow the instructions. Once thunderbird has been installed, follow the instructions below.
Transferring Emails
In Thunderbird, click the Tools menu and select Account Settings. Click on the Account Actions option found on the bottom of the left pane and Choose Add Mail Account...
Enter your account details for your Hamilton account and select Continue and then Done.
Repeat Step 2 to add the email account that you want to transfer the emails to and then select OK to close the Account Actions pane.
Depending on the number of messages, it can take a while for Thunderbird to download all your mail.
Once all your mail appears in Thunderbird, you can begin the transfer process by highlighting all the messages you want to transfer. You can highlight them by clicking on "Edit" in the menu bar and then "Select All".
In the Thunderbird menu, mouse over "Messages" and then "Copy To" and then select the inbox/ folder you want to copy the messages into. Once you click on the folder to which you want the messages moved, a transfer will begin. Thunderbird will display the progress at the bottom of the page.
Note: Depending on the number of messages you've selected, this can take anywhere from a few minutes to an hour or more.
Once the process is complete, login to the new account using a browser [IE, Safari, Firefox, etc.] to verify that the messages have been transferred.
You can now uninstall Thunderbird as it has served its purpose.