Dear Friends,
This year's Fallcoming Weekend was blessed with beautiful, sunny weather and new memories made with Hill friends. Highlights included the dedication of the Filius Jazz Archive accompanied by an all-star jazz ensemble featuring current students, professors and guest performers. At the Wellin Museum of Art, guest artist Frohawk Two Feathers (Umar Rashid) presented an exhibit titled "You Can Fall." Other memorable events included a presentation on Hamilton's innovative and interdisciplinary Digital Humanities Initiative, and performances from all five student a cappella groups, including Kirkland's own Special K. Many thanks to all who attended and contributed to the great success of this year's Fallcoming.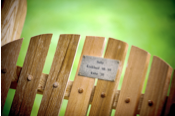 Adirondack Chair Dedication
Those of you who have visited the Hill recently may have noticed the spiffy new Adirondack chairs that have popped up around campus.
This "zany but satisfying" project was undertaken by Mark Kahn '70 and several friends in response to what he saw as a lack of outdoor
seating options. All chairs are fitted with a brass dedication plaque and may be purchased and dedicated to whomever you
p
lease for placement on campus. Kirkland alumnae are conspicuously absent from the current crop of chairs, so please contact either me or Mark if you are interested in dedicating one of these beautiful chairs. TheNovember 12 deadline is coming up quickly, so act fast!

Samuel Babbitt Theater Reception
There will be a tribute to our dear Kirkland College President Sam Babbitt onMonday, January 27, 2014 at the Biltmore Hotel in downtown Providence, RI. Organizer Chuck Mahoney of the Sandra Feinstein Gamm Theatre, would like to touch points in Sam's life. Any suggestions? Attendance at the event is a wonderful opportunity to pay tribute to Sam for his support of the arts, and we hope to make this event a memorable one for Sam and Natalie. To contact The Gamm call (401) 723-4266, Ext. 16 or visit the web site gamm.org.

Lost Orchard
Lost Orchard, a unique literary anthology of poetry and prose by Kirkland College alumnae, faculty and staff is slated for release in January, 2014. The 294-page volume, published by SUNY Press and can be pre-ordered online. We will celebrate the release with editor Jo Pitkin K'78 at an event in New York City in February, 2014. Other readings will be held during reunions on the Hill and regionally in connection with alumni gatherings. Let us know if you want one in your city!

Minor Theater Festival featuring Kirkland Plays
Reunion Weekend, June 5-8, 2014, includes several ways for Kirkland women to get involved in the Minor Theater Festival. Alumnae are invited to submit short plays (about five minutes) to be performed during the weekend. A Kirkland theme and/or setting is optional. Melanie Sutherland K'79, will direct. Actors will be provided, or you can bring your own. Feel free to contact Liz Horwitt K'73 for more information about the Kirkland plays, ehorwitt@verizon.net. Or submit your play here.
In addition, longer, never-staged pieces can be submitted to a panel of judges, whose selection will be performed at Minor on Saturday night of Reunions, along with plays by Richard Nelson and Harry Kondoleon (love!). Follow the link here to learn more about performances and submitting plays.
Jan C. Cheezem
I am sad to report the death of Jan C. Cheezem K '75 on September 30, 2013. Jan, who was originally from Charleston, SC was a lawyer living in Miami, Fl at the time of her death. A necrology will appear in a future issue of the Alumni Review. Please keep her family in your thoughts and prayers.
Sending love while dreaming of midnight raisin bread fresh from the oven and warm apple cider!
Lori
lorir@vwg.com
This portal is our new Online destination for many things Kirkland. Once there, you can update your profile, choosing the infomation you'd like to share and hide any items you prefer to keep private. Note that all of the information available in the former Alumni Directory will be visible to alumni, parents, students, faculty and staff. Log in today to connect, network, join groups, volunteer to help students and customize your My Hamilton landing page!
If you hear of someone who did not receive this email and wishes to hear from me periodically, please share with them and ask them to respond to the survey.