Lost Orchard
The prose and poetry from the Kirkland College community
Edited by: Jo Pitkin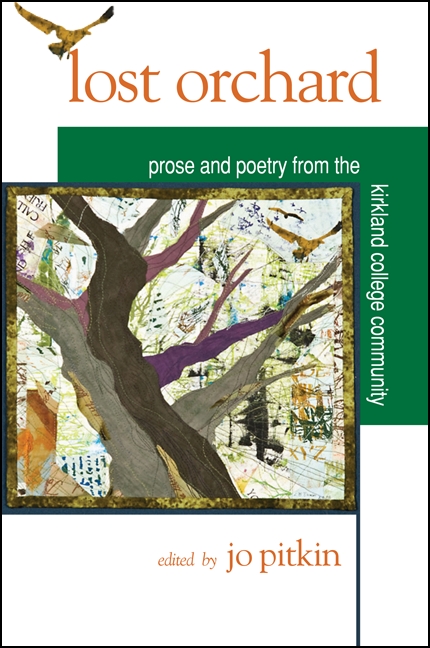 A collection of poems, short stories, novel excerpts, creative nonfiction essays, and one-act plays by Kirkland College alumnae, faculty, and administration, Lost Orchard brings together for the first time in print those who shared this exciting, vibrant community. Located in Clinton, New York, the college was founded in 1968 in singular times--at the start of the second wave of feminism and in the midst of profound changes in American society. Kirkland was the last private women's college created in the United States, and also the last established coordinate college until its tumultuous takeover in 1978 by its partner, Hamilton College. Known for its innovative curriculum, Kirkland empowered young women, fostered independent thought, and pioneered academic disciplines, including American studies, environmental studies, media studies, and creative writing.
Jo Pitkin is the author of The Measure and Cradle of the American Circus: Poems from Somers, New York. She received a BA in creative writing from Kirkland College and a MFA in poetry from the Writers' Workshop at the University of Iowa. She lives in Cold Spring, New York.
To order a copy, please follow this link.
"Lost Orchard is a paradise regained. How wonderful to have the brilliant and beautiful work of so many talented writers, all once part of the Edenic community that was Kirkland College, collected and preserved. Jo Pitkin's editorial eye is both acute and sensitive, and I salute and thank her."
— Peter Cameron '82, author of Coral Glynn: A Novel
"Lost Orchard dazzles me for its wild romp through New York's urban and pastoral landscapes (as well as its journeys hither and yon), its revolutionary ideas (revisited and revised), its diverse family portraits and reflections, its variety of forms (poetry, fiction, essays, plays, even a recipe), and its delightfully weird mix of pathos, grit, wit, and collective intelligence."
— Jane Springer, assistant professor of English and author of Murder Ballad
"Lost Orchard is a testament to higher education at its best, when intellectual curiosity and experimentation create an enduring community—something far richer than a sequence of classes. Kirkland College generated a literary community of astonishing breadth and depth—writers who continue to make significant contributions to contemporary literature. Still efflorescent, this lost orchard has been very fruitful indeed."
— David Fenza, Executive Director, The Association of Writers and Writing Programs