Student Experiences
Lei Chen's Blog
June 2000 - "No Limitations"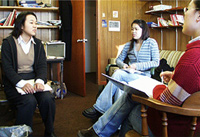 Prior to coming to Hamilton College, I believed that students would be able to take any courses they wanted. There would be no such things as restrictions and the students would be the sole determiners of the courses that they would be taking (under the guidance and assistance of the wonderful faculty a.k.a. advisors, of course).Like most things in life, this was not at all the way I thought it would be. It was my first day of registration when I realized that course selection was subject to many limitations, such as the number of students allowed in a class, seniority, prerequisites, time conflicts with other classes and last names, which determine every individual's time to register. The "deception", however, was mitigated by the add/drop feature, which I have come to rely on many times. Fortunately, during my three semesters at Hamilton, most of the courses I took were ones that I had wanted to take.

Last semester, however, I had my string of bad luck. Since I was planning on going abroad my entire junior year, I already had the courses all mapped out for the next two and a half years. The only thing that I had completely overlooked was the possibility that the times for the classes could conflict. It was not until the actual day of the registration that I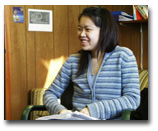 found out that second term Japanese and Chinese 140 were scheduled for the same time on Tuesdays- and Thursdays - I was in a turbulent state of mind. My plans for next year and basically my entire future were being placed at the whim of school regulations, professors' willingness, their consideration, and their kindness. My mood during the day ranged from extremely overjoyed to overwhelmingly disappointed. The Chinese class couldn't change its meeting time, because it fit perfectly into everyone else's schedules and moving it would have created major conflicts. A class of fifteen, the Japanese course couldn't change its meetingtimes for two students either. And then, at my most sullen moment, an alternative solution appeared. One of the Japanese professors agreed to hold a separate section for us during her office hours. At that moment, I felt a tremendous amount of weight being lifted from my shoulders. Now, three times a week, I am placed in the interactive classroom setting with the rest of my thirteen classmates, while the other two times, I am on a more individualized basis. This is a great combination in which I can maintain the same pace as the rest of the class, and also have an opportunity to work more in- depth on my Japanese.

My greatest aspiration is to have the opportunity to study abroad both in Japan and in China. And although, for a short time I had lost all hope of this dream ever coming true, now I look at the future with a renewed sense of enthusiasm and optimism.