Student Experiences
Lei Chen's Blog
October 2000 - "Konnichi Wa!"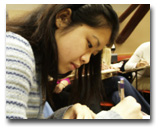 Konnichi wa! Hey everybody! How is everyone doing? Tokyo is wonderful! I love it so far which most of you know... My host family is great! They are the friendliest and nicest people that I have met. They treat me as if I was one of the family and I am so fortunate to be their "daughter" this term and they are planning to visit me in Beijing next term. Japanese are so NICE!!! When I get lost and ask for directions...they walk me to the place!!!

I started school yesterday and so far my classes have been good...the hardest class is obviously JAPANESE which I will work hard in... My Japanese is slowly improving but at a much faster rate than when I was in the US since I am surrounded by it everyday.

Tokyo is a very expensive place but it's similar compared to NYC...I guess it becomes more expensive because I'm still a tourist so I hit the touristy places but I'm getting settled and I found a part-time job teaching English so that way it can aleviate my okane (money) situation.

I've been out of the city a couple of times and it's beautiful in the suburbs except there are so many mosquitos... I have pretty much been bitten everywhere and I mean EVERYWHERE!!!

Tokyo is the food capital of the world!!Seriously, if everyone thought that it was NYC well you're all wrong! I'm probably going to come back 30 pounds heavier since I junk on okashi (snacks) everyday, but the food is so good.