Student Experiences
Lei Chen's Blog
November 2000 - "Japan Is Awesome!"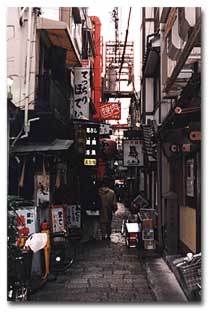 I had six days for vacation so I went to visit Kyoto (the capital of Japan before it became Tokyo), Osaka and Kobe for the first three days of break. I went with my host mother and we had so much fun. Kyoto and Kobe are so beautiful and the food was so good. I also met up with my friend, Zi Zhu that is also studying abroad near the Kyoto area. It was so great to see her, but the time we spent together was so short. Kyoto is so scenic with its beautiful temples and castles while Osaka is very similar to Tokyo. Kobe is this quaint little town that has a lot of western infulence.

For the rest of the vacation, I went to Nagano with people from my part-time job where I teach English. Nagano was gorgeous being tucked away in the middle of a valley and mountains. I went to hot springs which are awesome!! And the people we went with were so much fun!! They're all so nice and so COOL!! I had so much fun!! I don't want to leave, I really am enjoying and loving every minute here, don't want to leave quite yet!