Student Experiences
Lei Chen's Blog
December 2000 - "Happy Holidays From Tokyo!"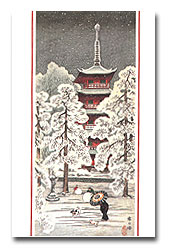 Merry Christmas and a Happy New Year!!! It's really weird this year that I won't be able to see all of you during this holiday break, but then again, there is always next year!!!

Tokyo is still going great for me but I can't believe that my semester here is almost over, just a little over a month to go and then it's Beijing...kinda scary. I'm really enjoying my stay here and I definitely think that everyone has to come here at least once in their lifetime.

It doesn't feel like Christmas since it's not really celebrated here. I mean the decorations and the illuminations are up, but it's not very festive among the people and the culture. Probably more of a commercial thing than anything, but its still great to buy presents for people. On Christmas day, three of my friends and I are going to Hiroshima and sightseeing around the area for five days. We'll be back on the 30th so we can spend New Year's Eve here in Tokyo. That's all for now...