Student Experiences
Lei Chen's Blog
January 2001 - Leaving Tokyo, Next Stop Bejing!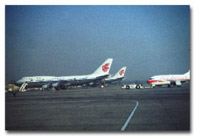 Tomorrow my flight departs from Tokyo and I will be in Beijing by tomorrow afternoon.I can't believe these last four months in Tokyo have flown by so fast. I mean, I can still remember clearly the day I arrived in Tokyo on a warm mid-September day last century. I always rave about how awesome my stay has been, and I really mean it. I can't convey how great it has been here, the people, the city and, most importantly, the food. I'm not prepared to leave and I still can't believe that today is my last day here in Tokyo.

I guess tomorrow marks the beginning of a new exciting life and adventure in Beijing...

Happy Chinese New Year!!!