Transformational Leadership
Transformational leadership programming works to develop self-awareness as a tool to confront challenges. Transformational leaders aim to implement change. They are creative and innovative; they establish direction, motivate and inspire; they follow ethical principles. This perspective intersects nicely with the innovative, principled, and change-making ethos of the social innovator or social entrepreneur.

Programs
A two-week intensive leadership training program with a mission to help students recognize, develop, and practice the kinds of leadership skills essential to create personal and societal change. Held on campus and in Washington, D.C. LLI promotes a global mindset, ethical behaviors, and regard for the public good. The chance to make a real and positive difference through longer term Commitment Projects transfers LLI skills and knowledge into real life situations. More ...
A first-year residentially based leadership program that strives to develop six key skills in all of its participants: self-awareness, organization, negotiation, active listening, public speaking, and networking. More ...

Hamilton Student Changemaker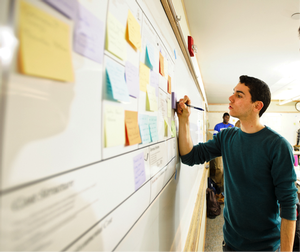 Michael Nelson '16, a participant in the Levitt Leadership institute, is organizing a weekly session where students can discuss what they care about and uncover why they care about these things in the first place for his commitment project. Michael is working with Sarah Jillings, the Assistant Director of Outdoor Leadership at Hamilton, who studies both satisfaction and purpose in people's live. Michael hopes that his commitment project will provide Hamilton students with the opportunity to discover their true passion in a supportive and comfortable environment. He anticipates that these weekly sessions will help students working with the Career Center focus not only on possible occupations and career goals, but also their true interests.