News From the Library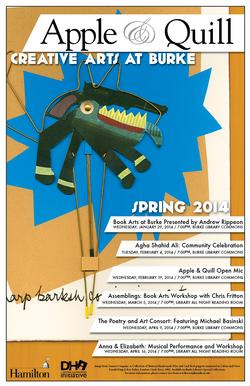 Apple & Quill: Book Arts @ Burke
By Kristin Strohmeyer
January 23, 2014
Andrew Rippeon will discuss his work in Burke's special collections, assembling an exhibition on twentieth century book arts. Like his exhibition, Rippeon's talk will focus upon three related but distinct aspects of Burke's book arts holdings, reflecting the strengths of the collection. Rippeon will provide an introduction to the academic aspect of the collection, which includes instructional, technical, and historical volumes about bookmaking. Drawing from these volumes, Rippeon will then lead a discussion of some of the more eccentric pieces in in the collection, which push the notion of "the book" to its formal and conceptual limit, and will also discuss some examples from the collection of poetry as presented in a book arts context.
Former editor of the poetics journal P-Queue, and founder of the book series QUEUE, Dr. Andrew Rippeon is a poet, letterpress printer, and independent scholar researching twentieth and twenty-first century poetry and poetics.
Join us on January 29, 2014 at 7:00 p.m. in the Burke Library Commons for this special Apple & Quill event.