News From the Library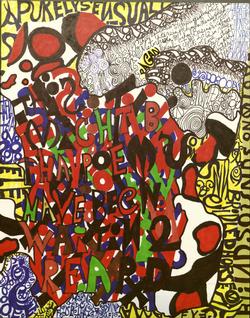 Apple & Quill Presents Poet Michael Basinski
By Lisa Forrest
March 20, 2014
Apple & Quill, with support from Hamilton's Digital Humanities Initiative (DHi), announces "The Poetry and Art Consort" presented by renowned poet and curator of the University at Buffalo's poetry collection, Michael Basinski. All are welcome to attend this special Apple & Quill "book arts" themed event on Wednesday, April 9 from 7:00 p.m. - 8:30 p.m. in Burke Library Commons. A limited number of open mic slots will be available following Basinski's presentation and reading.
The Poetry and Art Consort
Periodically over the last century the realm of the poem frequently mashed with other forms of art and this conjoining continues now in this century. From this infringement upon music and other art forms, poetry reinvents the form of itself. The space within poetry for this emergent type of poem has been evolving and developing. This type of poetry is neither an anomaly nor a phenomenon. It has claimed a substantial consideration in the present world of the poem. Allow this presentation to address this development by addressing contemporary publishing and printing techniques and trends in poetry, the technological evolution that assisted and assists this poetry, and the poetics of verbo/visual, concrete poetry, or visual poetry in 2014.
Michael Basinski is the Curator of the Poetry Collection of the University Libraries, University at Buffalo. He performs his work as a solo poet and in ensemble with BuffFluxus. Among his recent books of poetry are Piglittuce (Propolis Press - 2013), Learning Poem About Learning About Being A Poet (Press Board Press - 2012) and Trailers (BlazeVox - 2011). His poems and other works have appeared in many magazines including Dandelion, BoxKite, Antennae, Open Letter, Deluxe Rubber Chicken, First Offense, Terrible Work, Kenning, Lungfull, Tinfish, Score, Unarmed, Rampike, House Organ, Ferrum Wheel, End Note, Ur Vox, Damn the Caesars, Pilot, 1913, Filling Station, fhole, Public Illumination, Eccolinguist, Western Humanities Review, Big Bridge, Mimeo Mimeo, Nerve Lantern, Vanitas, Talisman, Yellow Field, Staging Ground, and Poetry. Recent visual opems (yes, opems) located in: www.wordforword.info