News From the Library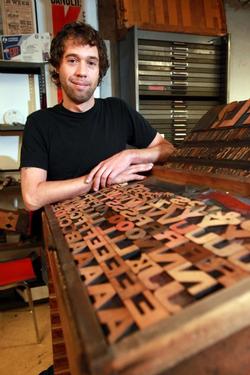 Calling Artists and Poets! Book Making Workshop at Burke
By Lisa Forrest
February 25, 2014
Apple & Quill: Creative Arts at Burke presents a special book making workshop with artist Chris Fritton. Please join us Wednesday, March 5, 2014, from 7 – 9 p.m. in the library's All Night Reading Room. Registration is recommended. Contact Lisa Forrest at lforrest@hamilton.edu for more information.
Assemblings: History and Overview with Chris Fritton
From Duchamp's earliest "Boxes" to the FLUXUS Kits of the 1960's and beyond, the "assembling" holds a unique place in the history of art. An amalgamation of unique artworks presented as a single object, an assembling is more than a collection; it's a family of objects from one or more artists that exemplifies the notion of a whole being more than the sum of its parts. A history of assemblings will be presented, with photo accompaniment, and actual examples will be provided for perusal.
Participants will be invited to ask questions, look through examples of assemblings, and finally, create their own using the random assortment of objects Fritton brings along.
Chris Fritton is the Studio Director at the Western New York Book Arts Center. He holds a BA in Philosophy (1998), a BA in Poetics (2000), and a BA in Art History (2010) from SUNY at Buffalo, as well as an MA in Poetics from the University of Maine at Orono (2005). A poet, printer, and fine artist, Fritton has decades of experience writing and making his own books, in addition to collaborative efforts with other writers and artists. He currently oversees the studio space at WNYBAC, works as an in-house printer/designer for Mohawk Press, and teaches letterpress and printmaking