News From the Library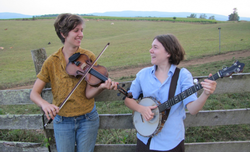 Crankie Making Workshop and Music Performance
By Lisa Forrest
April 11, 2014
Apple & Quill, in collaboration with Hamilton's Music Department and Digital Humanities (DHi), present a special performance and workshop by Anna Roberts-Gevalt and Elizabeth LaPrelle. On Wednesday, April 16th from 7:00 - 8:30 p.m. in the KJ Commons, join us for banjo tunes, ballads, and learn how to create your very own "crankie" (a scrolling illustration which depicts oral history).
ANNA ROBERTS-GEVALT and ELIZABETH LAPRELLE are based in Southwest Virginia. They met, coming at traditional Appalachian music from different directions. Anna was in a touring old-time band. Elizabeth was singing ballads in far-away states. They came together to create a different kind of show: one that used theater and stories to show people what they love about old tunes and ballads. They also knew that keeping the music in the mountains--playing in their communities, playing for schools--was part of the job. With that, they set about making crankies, and learning stories, and trading songs and tunes.
THEIR SHOW: A captivating variety show of fiddle and banjo music, ballads and close harmonies, storytelling, flatfoot dancing and intricate puppets they create-- shadow puppets & scrolling illustrations called CRANKIES. They have shared their show, to great acclaim, across the US, including the High Museum of Modern art in Atlanta, to the Seattle Folk Festival, and the Lexington Opera House (KY).
For more information, please see www.annaandelizabeth.com.