News From the Library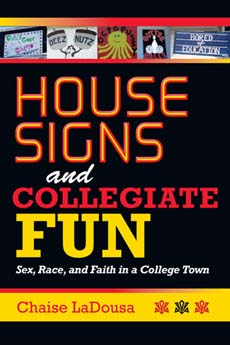 Faculty eBook of the Week: House Signs and Collegiate Fun by Chaise LaDousa
By Lynn Mayo
September 16, 2013
House Signs and College Fun: Sex, Faith and Race in a College Town by Chaise LaDousa (Indiana University Press, 2011).
The book, an ethnographic study of college house signs, began as a seminar in linguistic anthropology where Associate Professor of Anthropology LaDousa's former Miami University students decided that "house signs should be the focus of our attention as we thought about the relationship between language and culture."
"A fascinating, surprising, and intriguing look at pervasive house signs in a Midwestern U.S. college town, this book will delight college students, appeal to those who teach them, and engage those who study them across several disciplines." - Virginia Dominguez, University of Illinois
Check out our growing collection of Hamilton Faculty eBooks.