News From the Library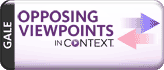 Opposing Viewpoints, New Database.
By Lynn Mayo
September 3, 2013
Opposing Viewpoints, available from GaleGroup, includes background reports covering current social and political issues, from immigration to climate change to the politics of the Middle East. Explore controversial issues from all perspectives. Opposing Viewpoints is provided by the New York State Library, NOVELny connects New Yorkers to 21st century information. NOVELny is supported with temporary federal Library Services and Technology Act funds from the Institute of Museum and Library Services (IMLS).