News From the Library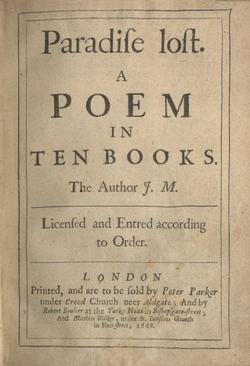 Paradise Lost Reading Marathon!
By Kristin Strohmeyer
March 28, 2014
On Sunday, April 6 starting at 12pm, Burke Library will once again play host for the Paradise Lost Reading Marathon. Started by Professor Margaret Thickstun several years ago in conjunction with ENG226, this annual event takes place in the Burke Library Commons, with the entire community invited to read out loud sections Milton's book.
Anyone is welcome to stop by to listen or to read.
Schedule:
Noon: Books 1 and 2: Satan discovers himself in Hell; the fallen angels debate what to do.
1:45: Books 3 and 4: Satan travels toward Earth; God and the Son consider how to respond; Adam and Eve have a lovely day.
3:15: Books 5 and 6: Satan has disturbed Eve's sleep, so God sends Raphael to alert Adam and Eve to Satan's presence and their responsibilities. He tells them about Satan's rebellion.
5pm: Books 7 and 8: Raphael tells Adam and Eve about Creation; Adam and Raphael discuss Adam's birth and his feelings for Eve.
6:15pm: dinner break
7pm: Book 9: Spoiler alert: Eve eats the fruit; Adam eats the fruit; then they wish they hadn't.
8pm: Book 10: Satan returns to Hell to boast; Adam and Eve quarrel and then reconcile.
9pm: Books 11 and 12: Michael comes to kick Adam and Eve out of Eden, but tells Adam about the future, including the Incarnation and Resurrection.