News From the Library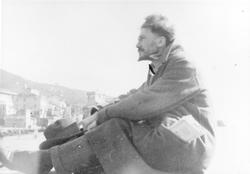 Ezra Pound and the Troubadours: The Hamilton College Connection
By Christian Goodwillie
August 23, 2013
Ezra Pound is rightly considered one of Hamilton College's most prominent alums. His poetry and contributions to the development of literature in the twentieth century are monumental. However, few are aware that Hamilton College Professor William P. Shepard's formidable influence on Pound played a role in the recovery of one of Europe's earliest poetic and musical cultures: that of the Provencal troubadours. Shepard was a pioneer in the translation of these works, and his enthusiasm for the repertoire ultimately inspired Pound to undertake his own translations, as well as early attempts to reconstruct the musical performance of the texts. During 1909 and 1910 Pound studied troubadour manuscripts at the British Museum and undertook his first attempts at translating the poetry of Arnaut Daniel (fl. 1180-1200). In 1912, seven years after graduating from Hamilton, Pound embarked on a walking tour of Provence, hoping to visit many of the haunts of his favorite troubadour poets.
Renowned performer and scholar of medieval music Anne Azéma, Director of The Boston Camerata and AZIMAN, in conjunction with Director of Special Collections Christian Goodwillie, will present an illustrated performance and lecture examining Pound's work with the troubadour repertoire, his relationship with Professor Shepard, and the current state of performance practice of this 800-year-old repertoire. Azéma will perform some of the troubadour songs that were translated by Pound, and discuss what has been learned since his pioneering work.
Save the date! Join us Saturday, February 15 at 1:00 p.m. in the Burke Library Commons for this special event. Questions? Please contact Christian Goodwillie at cgoodwil@hamilton.edu.