News From the Library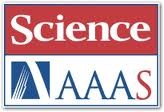 Science Magazine Now Available Electronically
By Glynis Asu
January 30, 2014
Burke Library is pleased to announce that Hamilton College now subscribes electronically to Science magazine, in full and up to the present.

Please explore these features:
Science Magazine: a leading journal of original scientific research, global news and commentary.

Science Express provides electronic publication of selected Science papers in advance of print. Some editorial changes may occur between the online version and the final printed version.
Sign Up For eAlerts including Science Tables of Content, Editor's Choice and more.