News From the Library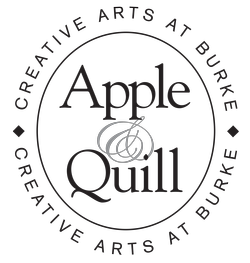 Take a Study Break! Apple & Quill Features Jane Springer and Kina Viola
By Lisa Forrest
December 9, 2013
Apple & Quill, the library's creative arts series, is pleased to feature Jane Springer, Assistant Professor of English, and Kina Viola, class of 2014. The event will take place on Wednesday, December 11 from 7:00 – 8:00 p.m. in the Burke Library Commons. Open mic slots will be available and refreshments will be served. Take a study break with us!
Jane Springer, assistant professor of English, received her Ph.D. in creative writing from Florida State University. Her first book, Dear Blackbird, won the Agha Shahid Ali prize for poetry (University of Utah Press, 2007). Other honors she's received include Pushcart nominations, an AWP Intro Award, a "best emerging writer" award from the CLMP, and the Robert Penn Warren prize for poetry. She is a current recipient for an NEA fellowship and you may read more about her on the NEA's "Writer's Corner" at: http://www.arts.gov/features/Writers/index.html. Her academic interests include Southern literature, contemporary poetry, and poetics.
Kina hails from White Plains, New York and can't wait to get out of the suburbs. This past summer, she received an Emerson Grant to study and write about infinity with Assistant Professor of Philosophy Russell Marcus. She is interested in hybrid forms, book arts, sustainable agriculture, wine, and good stories. Kina also edits Hamilton's literary magazine, Red Weather.