News From the Library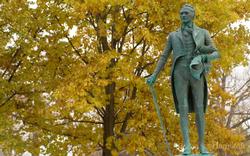 What's New In the Library?
By Lisa Forrest
August 23, 2013
As the fall semester begins, Burke Library would like to extend a warm welcome to the Hamilton College community. The library was a very busy place over the summer, and we're excited to share all of the changes with you! Here are a few updates that you might want to know about:
New Carpet. The most visible change in the library is the replacement of the iconic orange carpet (circa 1970). As the carpet was being replaced, and furniture and books were being shuffled around, we took the opportunity to reconfigure some key areas within the library.
New Spaces. The front part of the library, formerly known as "the browsing room," has been transformed into a new public event space now referred to as "Burke Commons." We'll look forward to using this space for poetry readings, special exhibits, academic talks, music performances and more! In this space, you'll also find exhibits highlighting faculty and alumni publications. The browsing collection and print journal collection have been relocated near the first floor Reference collection. The new browsing area includes comfortable seating and an exhibit wall dedicated to faculty awards.
New Names. The library's information desk has a new name: Info@BURKE. Stop by this desk for assistance with research and computing questions of all kinds. To reflect changes within the Library Science profession as a whole, the Reference Services Department has updated its name to Research and Instruction Services.
New Faces. In early June, two new leaders joined the library staff. Beth Bohstedt and Lisa Forrest assumed the roles of Director, Library Access Services and Director, Library Research and Instruction Services, respectively. Beth oversees circulation, interlibrary loan and operational aspects of the Burke and Music libraries. Lisa oversees the support provided by research librarians to faculty and students in connection with their courses and scholarship. Stop by and say hello!
New Blog and Calendar of Events: You'll also find some big changes on the library's website. Our new blog, Burke News, is sure to keep you up to date on everything from new resources to library events. All events taking place in the library are now listed on our "Calendar of Events," located on the library's homepage.
New Programming. Burke Library is pleased to introduce Apple & Quill, a new creative arts series focusing on creative writing, music, and the visual arts. With support from Hamilton's Digital Humanities Initiative (DHi), this series will be recorded and archived for future teaching and research opportunities. This fall, we're thrilled to feature four faculty members and students reading from their creative writing. See the library's Calendar of Events for a complete listing of Apple & Quill activities.
If you have any questions about any of the changes above, please contact Beth Bohstedt at bbohsted@hamilton.edu or Lisa Forrest at lforrest@hamilton.edu. We look forward to seeing you soon!