These are short monographs on the Shakers of 50 to 100 pages in length. This series complements two other offerings from the Couper Press: The American Communal Societies Quarterly and the American Communal Socieites series.

To purchase items, contact Mark Tillson, 315-859-4705, mtillson@hamilton.edu.
Publications
Shaker Studies, No. 4 Buy Now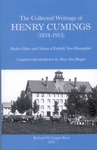 The Collected Writings of Henry Cumings (1834-1913): Shaker Elder and Citizen of Enfield, New Hampshire, Compiled with introduction by Mary Ann Haagen, 259 p. , ill., 21 cm. $20.
ISBN: 978-1-937370-02-2 (2012)
Henry Cumings was ten years old when he and his family joined the Enfield, New Hampshire, Shakers in 1845. Capable and intelligent, he was entrusted with increasing leadership responsibilities as he came of age. For twenty years he served as one of the Society's most eloquent spokespersons for a Shaker way of life. In 1881, at the age of forty-five, Cuming reappraised his commitment to Shakerism and left the community. He did not, however, repudiate his Shaker heritage. Between 1904 and 1913 he wrote a series of historical essays for the local newspaper, the Enfield Advocate, in which he shared his personal reflections on Shakerism. Collected here for the first time, this volume of Henry Cumings' writings offers the reader a lively and detailed account of the Shaker community he knew so well, and its influence on the town of Enfield, New Hampshire.
Shaker Studies, No. 3 Buy Now

Partake a Little Morsel: Popular Shaker Hymns of the Nineteenth Century, by Carol Medlicott, 89 p. , ill., music, 26 cm. $15.
ISBN: 978-1-937370-00-8 (2011)
Among the various forms of Shaker song, hymns have sustained the worship of the United Society of Believers in Christ's Second Appearing — or Shakers — for over two hundred years. Distinguished from other song types by their lengthy texts of metrical rhymed poetry, hymns can accommodate an endless range of theological and spiritual ideas. During the nineteenth century, Shakers produced hundreds of individual hymns, which were recorded by countless individual Shakers in myriad manuscript hymn books. Yet from this enormous body of hymnody, a core group of hymns readily emerges — hymns that were used and beloved for decades across the Shaker world, from Maine to Kentucky. Remarkably, the hymns in this core group are virtually unknown today. This study helps today's reader to "partake a little morsel" of a relatively untapped vein of American folk hymnody, revealing a fresh understanding of the Shakers' amazing complexity and vitality.
Shaker Studies, No. 2 Buy Now

Independency of the Mind: Aquila Massie Bolton, Poetry, Shakerism, and Controversy, by Sandra A. Soule, 105 pages. $10.
ISBN: 978-0-9796448-6-3 (2010)
This work traces the spiritual journey and accomplishments of Aquila Massie Bolton who had joined the Shakers at Union Village, Ohio after twenty-five years of spiritual seeking. His poetry praised Shakerism, but in time, he challenged the beliefs of Shaker leaders, which inevitably led to controversy and his apostasy. Soule's careful analysis sheds light on the struggles of Bolton to find a spiritual home and on how the Shakers responded to the challenges he raised to their theology and leadership.
Shaker Studies, No. 1 Buy Now

Robert White Jr. "Spreading the Light of the Gospel," by Sandra A. Soule, 79 pages with 32 black and white illustrations. $9.
ISBN: 978-0-9796448-4-9 (2009)

In this work, Robert White Jr.: "Spreading the Light of the Gospel," Sandra Soule provides a detailed examination of the role Robert White Jr. played in spreading and defending the Shaker message. His activities ranged from persuading the Shaker leadership to publish certain important works, to funding their publication, and actively taking part in their distribution. Although White toiled tirelessly to advance the cause of Shakerism in the mid-nineteenth century, little has been written about him and his endeavors in the area of Shaker publication. Soule fills that void with her meticulous research based on Shaker manuscript records.