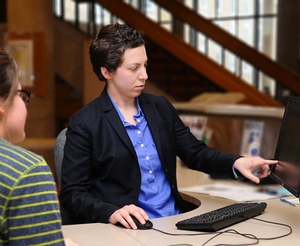 Laura Festine
Research and Document Delivery Librarian
lfestine@hamilton.edu
315-859-4321
PHOTO: BY MARIANITA PEASLEE
Laura Festine received her B.A. in Anthropology from St. Lawrence University and her M.S. in Information Science with a concentration in Library and Information Services from Albany-SUNY. Outside of the library, Laura is training for her black belt in Taekwondo. She lives in Clinton with her partner and dog.
Current Interests and Activities
Laura's interests include providing research support to students and faculty, critical pedagogy, and issues and trends in college libraries and higher education. She works closely with Interlibrary Loan to ensure the timely delivery of hard to find library materials.