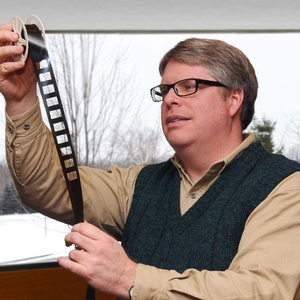 Reid Larson
Research and Digital Initiatives Librarian
rslarson@hamilton.edu
315-859-4480
PHOTO: BY MARIANITA PEASLEE
Reid Larson joined Burke Library's research and instruction staff in 2005 after working in a similar role at Lafayette College in Easton, Pennsylvania. Prior to becoming a librarian, he served as the director of the Essex County Historical Society/Adirondack History Center Museum and the education director for the Saratoga Springs Preservation Foundation. He received his B.A. in American Civilization and Literature from Middlebury College and holds advanced degrees in American studies, historic preservation, and library science from Bowling Green State University, the University of Vermont, and Syracuse University.
Current Interests and Activities
Recent projects include the compilation of a bibliography of the works of Agha Shahid Ali with Patricia O'Neill for the Digital Humanities initiative's Beloved Witness project. He is currently at work on an interactive web project aimed at documenting the history and development of communities in the Adirondacks.