Admit One
The Fallout: Hard Choices
The fact that the marked increase in Hamilton's selectivity attractiveness to top students has happened quickly has an unintended side effect. It can create more angst and more confusion for prospective students' families and the guidance counselors who advise them, as high school seniors with credentials similar to those admitted just a few years ago are now denied or wait-listed. Ziesenitz, who graduated from Hamilton only eight years ago, confesses, "I wouldn't be admitted now." Two of her colleagues in the office, also Hamilton graduates, express the same sentiment. Statistics comparing the profiles of two recent classes with those of the Bicentennial Class that just matriculated tell the story.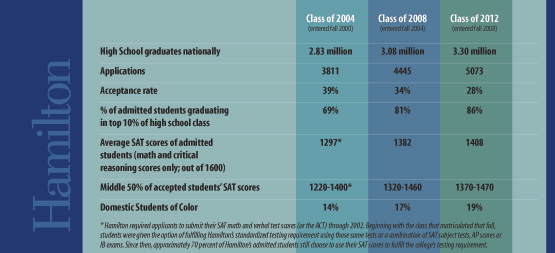 (Click to see larger image.)

Those figures prove the claim of Associate Dean of Admission Jay Bonham '93: "We've always attracted strong applicants — they're just getting even stronger, and there are more of them." The trend, in turn, has a trickle-down effect. "It makes it more difficult for us, because it's such a fine line between an accepted student and those on the wait list," Bonham says.

The difficulty lies not only in evaluating applicants but also in sharing their anxieties and expectations. Mike Salmon '06 recently completed his first year in the Hamilton Admission Office after working in New York City. "In the financial world you have concrete answers — 'yes' or 'no,'" he says. "But in admission 'yes' and 'no' are relative." Salmon recalls the second student he ever interviewed: "He had a lot of incredible qualities. I thought he'd be a sure fit. He was qualified, but we just ran out of spots and he was not admitted. ... There's a real emotional component to this process."