Around College
Arriving Students Serve with Verve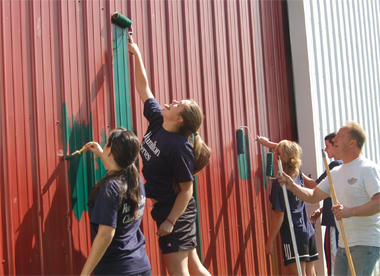 Hamilton students have a long history of serving the Central New York region through a ­variety of group and individual efforts, but until this year, one stone had remained unturned: an entire class heading out into the surrounding community for a single, intensive day of volunteer service. That was the mission of the Class of 2012 as its members arrived on campus for orientation, and they served with distinction.

The inaugural Hamilton Serves! took place Aug. 27 as ­students worked at 40 nonprofit agencies in the Mohawk Valley, including United Cerebral Palsy in Utica, the Humane Society of Rome, Spring Farm Cares in Clinton and Crouse Community Center in Morrisville. Activities included sorting clothing at the Rescue Mission, hosting an end-of-summer party for nursing home residents at Loretto Utica Center and harvesting crops at For the Good's community garden. Students also assembled reference guides for the Girl Scouts, worked a summer carnival at ARC Oneida Lewis County, conducted activities for children at Thea Bowman House and worked with classroom staff at schools preparing for the upcoming year.

"I really feel like we accomplished something," said Amy James, Hamilton's director of outreach and orientation, who coordinated the program. "Not only did our students do some good work at these agencies, but they got to see what the missions of the nonprofits are. I'm getting very positive feedback from our students, and I'd like to see us do this again next year."

See video and photos of Hamilton Serves! at www.hamilton.edu/serves.