The Alumni
Kirkland's legacy finds new voice, vitality among alumnae, students
By Nora Grenfell '12
It all started with a girl on a bicycle. At least, that's how Judy Silverstein Gray K'78 begins to describe her journey back to the Hill many years after she graduated with Kirkland College's last class. Gray was one of the organizers of the first All-Kirkland reunion in 2007, which brought 231 other alumnae, their families and faculty members back to campus — some for the first time in more than 30 years. Many Kirkland alumnae had little desire to return to the Hill after the merger with Hamilton in 1978, and that sense of estrange-ment was not foreign to Gray.
It was an interaction with a student, however, that made Gray feel less like an outsider and inspired her to do more. Mallory Reed '10, then a first-year student, biked up to a group of Kirkland alumnae and asked about the tradition of the green apple, in which graduates carry the apples with them into the commencement ceremony. Female graduates also receive green apple pins at an all-women brunch of faculty and students during Senior Week.
"The green apple started as a protest. Students would put a green apple on the stage because they missed Kirkland," Gray recalls. "It struck me that no one was passing on the traditions except the faculty that were on campus." Gray began to wonder how many Kirkland alumnae had any interaction with current Hamilton students.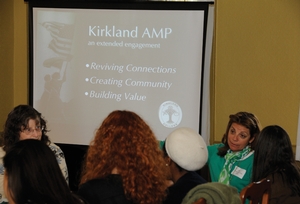 Thus began the Kirkland Archives, Media and Publications (AMP) project. Gray and other Kirkland alumnae have embarked upon this ambitious project to document the history of Kirkland — and to bring its legacy to life at Hamilton. AMP's main goals are to unite Kirkland alumnae by expanding the archives of the College and to continue to publish the voices of Kirkland women. Katherine Collett, the College's archivist, has been working with AMP to add to the Kirkland archives. AMP also hopes to augment the ongoing dialogue about Kirkland on the Hill.
"I think for some people it was like they lost something and never talked about it again. It seemed as if Kirkland was over — only having gone back, it doesn't seem that way at all," Gray says. "It seems as if the campuses are now linked to one another. Even though I took courses on both sides of the street," she says, referring to cross-registration between the Hamilton and Kirkland campuses, "I didn't feel the intermingling the way I
do now."
The Kirkland archives are spotty, having endured a merger in addition to the usual casualties of time on pre-digital records. Many of the documents are incomplete, and the archivists face problems such as being unable to identify people in photographs. AMP and Collett find themselves doing a lot of primary research into Kirkland traditions — almost all of which were created from scratch in the 10-year academic run of the College. AMP aims to give Kirkland alumnae the chance to contribute to the archives any documents they still have, to record their oral histories at alumni events, and to work with Collett and AMP to identify names and faces from collections.
Jo Pitkin K'78, award-winning poet, freelance educational writer and founder of Hamilton's literary magazine Red Weather, has assembled for publication a collection of creative prose and poetry by Kirkland graduates. She has titled the project Lost Orchard. For 150 years, an apple orchard sat across the street from the traditional Hamilton campus, on land that became Kirkland College. Kirkland borrowed the apple for its insignia in order to represent the "organic" nature of the College as a growing and changing institution. In Lost Orchard, the spirit of Kirkland continues to blossom.
Lost Orchard is also an extension of a project that began with the 2007 All-Kirkland Reunion. Pitkin orchestrated an event titled Kirkland Voices for the reunion, bringing Kirkland writers from Maine to California back to campus to read aloud poetry, fiction and creative nonfiction. "Some of these women had not been back to Clinton," said Pitkin, who felt that a reading was a creative way to reach out to alumnae. "I think that something that specific and celebratory really brought people back."
Pitkin was already in contact with several other writers who had graduated from Kirkland, but in order to draw writers from every Kirkland class, she reached out to Bill Rosenfeld, the former Marjorie and Robert W. McEwen Professor of English and a member of the faculties of Kirkland and Hamilton colleges from 1969 to 1995. Pitkin credits Rosenfeld not only with putting her in touch with other alumnae, but also with keeping the creative writing concentration flourishing at both colleges. Pitkin herself circulated petitions throughout her junior year to continue the creative writing program after the two colleges merged. "I was concerned that the more conser-vative Hamilton would just drop" the major, Pitkin recalls, and she is pleased that both creative writing and writing in all disciplines have remained central to Hamilton's mission. "Writing is such an important part of your education," she says.