Field Notes
Innovative study of city and country by Senior Fellows Dunfey and Cain
One studies the role of the bicycle in urban environments; the other explores the loss of rural America in poetry and film. What do McKayla Dunfey and Martin Cain share? They're Hamilton's Senior Fellows.
Each spring the dean of faculty may designate up to seven academically outstanding rising seniors as Senior Fellows. Fellows are exempt from taking a normal courseload, and they need not complete concentration requirements; they may take courses appropriate to their fellowship projects and educational goals. A written thesis is required at the close of the fellowship year, along with a public lecture to the College community.
That the two 2012-13 fellows are pursuing such complementary projects — a waning rural landscape and a changing urban one — is coincidental, though their efforts have some interesting ­parallels.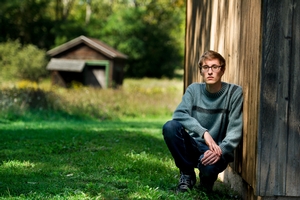 Cain's project, "The Poetic Art of Rural Decay: Reinterpreting the Pastoral with a Surreal Sense of Place," grows out of his own roots in small-town Vermont as well as his own work as a poet — he was the youngest poet at the prestigious and highly selective Bread Loaf Writers' Conference last year. Cain is exploring rural decay — which he calls "the surreal contrast between urbanized and rural America" through pastoral poetry and sensibility — "a genre that idealizes rural living and a rustic lifestyle," he says. "True pastoral living exists in a 'golden age.'"
A creative writing major who continues working on a senior thesis under Professor of English and Creative Writing Doran ­Larson, Cain is also a cinema and media studies minor, and his fellowship project will incorporate cinematic elements.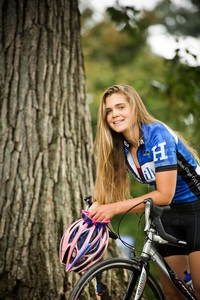 Dunfey, too, can trace her interest in her topic to childhood roots: Dunfey has been bicycling since she was a child, and she became involved in road biking at 13 — when she began to ride a bicycle that her great-grandfather had built, complete with lantern holders on the handlebars. She has continued her riding at Hamilton and spent her sophomore year doing an independent study project on bicycling in Europe.
There, she notes, cycling is often highly integrated into city life. Dedicated bike lanes are used by thousands of commuters and travelers; bike rental racks abound on city streets. American cities, by contrast, tend to be far less bicycle-friendly. Her project, "The Bicycle's Influence: Changing Perceptions of Place and Space in Urban Environments," entails visits to six cities across the country with varied biking communities and policies in order to document the effect biking has on each area and its place in the urban culture. "I hope that it becomes a lot easier and a lot safer for people to ride bikes, and that it will become something that's possible for more people," says Dunfey, who is considering a career in transportation planning.
— Contributing: Esther Malisov '13; Vige Barrie; Holly Foster; Amy Lindner