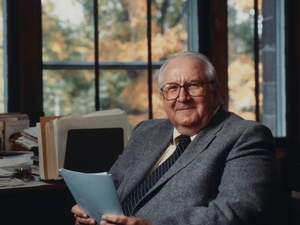 Frederick Reese Wagner
Frederick Reese Wagner, professor of English emeritus and an exceptionally dedicated and fondly remembered teacher, died on October 28, 2012, in Utica, NY, at the age of 84. A member of Hamilton's faculty from 1969 to 1995, he acquired a devoted following among Hill students for the excellence of his teaching and for his personal warmth and genuine interest in them.
Professor Wagner, affectionately known as "Fred," was born on April 15, 1928, to Fred R. and Mildred Bridener Wagner, in Philadelphia, PA. He grew up in New Jersey, where he was graduated in 1945 as co-valedictorian of his class at Haddonfield High School. He went on to Duke University, where he earned his Phi Beta Kappa key and B.A. degree summa cum laude as class valedictorian in 1948. He stayed on at Duke to acquire an M.A., and then taught English for a year each at the University of Oklahoma and at Duke before being called into military service during the Korean conflict. In 1953, he was released as an ­Artillery lieutenant after two years in the U.S. Army. There­after he entered the book ­publishing field and became advertising manager for Prentice-Hall and subsequently promotion manager for Harper & Row in Manhattan.
However, in 1965, after a decade of promoting books that were often, in his judgment, of dubious quality, Fred Wagner decided to return to "something of value," teaching. He engaged in postgraduate studies at New York University and then returned to Duke to pursue his Ph.D. By the time he obtained it in 1971, he had already joined Hamilton's faculty as an assistant professor. Named chairman of the English department in 1978, he retained that post until 1990.
In the meantime, in the classroom and seminars in his office on the second floor of Root Hall, he charmed students not only with his insightful ­erudition but also his geniality, hearty laughter, and openness to their expressions of opinion on the literature they had read. In courses ranging from introductory surveys of British and American literature and British and American drama to a seminar on "Faulkner and his Southern Contemporaries," his favorite course, he acted not as an authoritative lecturer but as a gentle prod to student thinking. To him, teaching and learning were fun, and he was highly successful in conveying his own enthusiasm to his students.
Another course he especially liked to teach was "American Literary Autobiography," reflecting his strong personal interest in the lives of such literary lights as Bronson Alcott, Nathaniel Hawthorne, and Henry David Thoreau. A former president of the Thoreau Society, he published numerous scholarly articles focusing on those three. Earlier, while he was still engaged in the book publishing industry, he also penned a number of works for young readers, many of them dealing biographically with historical figures.
For Fred Wagner, teaching remained uppermost throughout his academic career, "the center of my life," as he once remarked in retrospect during his retirement years. Not only was he an outstanding teacher but also a mentor offering encouragement and kindly but challenging guidance. In small discussion groups he was at his best, and there he brought out the best in his ­students. Beyond his extensive office hours, he was always ­available by appointment, and he could be readily reached by phone. His gentle humor, infinite patience, and true commitment to free expression endeared "Daddy Wags" to those fortunate enough to find a place in his courses. Fittingly, in 1990, the Leavenworth Professor of English since 1979 became the first occupant of the Christian A. Johnson "Excellence in Teaching" chair.
His activity and energy curtailed by a stroke in 1992, Fred Wagner took emeritus ­status three years later. In retirement at Acacia Village in Utica, he continued to read widely, take up bridge playing again, and enjoy visits by former ­colleagues and students.
Frederick R. Wagner is s­urvived by a son, Christopher A. (Alex) Wagner '73, and a granddaughter, Alexandra. Graveside services in the College Cemetery will be held next spring. The family has suggested donations in his memory to the Frederick Reese Wagner Prize Scholarship Fund, established by his former students as a tribute to him and the profound and lasting influence he had on their lives.
Return to Top