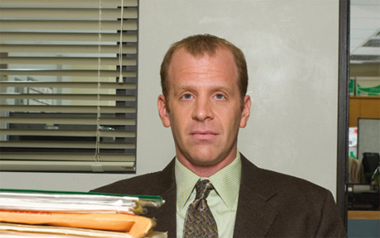 Roll Redits

Paul Lieberstein '89
Hamilton Major: Economics

Why Hamilton: I knew I wanted a small, liberal arts college, and Hamilton fit the picture I had in my head. It was an awesome day when I visited. It seemed so "collegey" and I liked the people. Plus Hamilton was known as a business feeder school, and I was caught up in that.

First Job After Hamilton: I worked as an auditor at Peat Marwick. I didn't last six months. It was like watching my soul drain out.

Moment You Knew You Wanted to Be a Writer: I did a lot of writing in high school and always loved sitcoms, sneaking in more than my allotted TV time as a kid. I had met some writers in New York who worked on Saturday Night Live and suddenly realized you could make a living this way — a good one. Two days after quitting my job, I finished a script for Cheers.

First Writing Job: I worked part-time in my father's law firm, actually working as little as I could so I could write. I did 10 scripts in two years. Eventually I moved to LA and got my first job as a staff writer on Clarissa Explains It All [1991] and then Weird Science and The Naked Truth. [After that came five years as a producer and writer for the animated sitcom King of the Hill, for which he earned his first Emmy, and writing/producing roles with The Drew Carey Show, The Bernie Mac Show and Greg the Bunny.]

Current Project: I've been with The Office [NBC] since the beginning [2005] as co-executive producer and writer. This is also the first time I've done any acting [as human resources director Toby Flenderson].

Best Part of Your Job: When we are in pre-production, this is the best job in the world. Working 10 to 7, sitting around and brainstorming with the other writers, making things funnier and writing and rewriting scenes — that's as fun as it gets. Adding acting on top of all that makes for incredibly long, grueling days, sometimes 6 to midnight. But acting has its own rewards. Comedy becomes intensified in short scenes. Doing a scene with Steve Carell, trying to keep up with him, is as tough and fun and weird as any part of the process.

Sources of Inspiration: I've used experiences from every job I have ever had, and even called up a few Hamilton friends who work in the corporate world and grilled them for what goes on [in their offices]. This is a different kind of show — so many people can relate to it. It's an intelligent audience. I used to have to beg my friends to watch my shows, but they watch this on their own.

On-Screen Role: I was originally going to do one line in the first episode, but the president of NBC saw my scene and said, "He's funny. Let's use more of him." I had no acting experience — my training came on the show by working with incredibly talented actors like Steve and Rainn Wilson.

Writing Versus Acting: I prefer writing, although being on the other side as an actor has informed my work. I do miss the anonymity. I was up in Napa last weekend when I heard someone shout from across the room, "Hey Toby!" and then "Hey, he looked." But there are some positives. I was at a new restaurant in Brentwood, where I live, and Helen Hunt was in front of me. She was waiting at the bar when the hostess recognized me and said she loved the show. I ended up getting a table while an Oscar winner was still waiting.

Future Projects: I'm letting myself do this for now. I can't imagine I'd like another show better. I do have a screenplay drafted that I'm tinkering with.

Hobbies: I've been doing some road biking and perfecting my automatic peanut butter-and-jelly sandwich maker.

Advice to Aspiring Writers: Write as much as you can before coming out to LA. It's takes a lot of work and patience. People believe that they can rely on making connections and then blame the industry when they get nowhere. But all it takes is one really good script. Make sure the writing is ready.