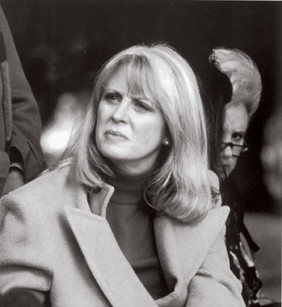 Roll Credits

Sandy Faison K'72
Kirkland Major: Drama (Music minor)

College Productions: I was in three plays at Minor Theater but remember Niagara Falls best of all. The play was by Leonard Melfi and directed by Cyril Simon. Just prior to the production, I returned to Kirkland having had a car accident the previous spring. I had a wheelchair in my room, was still on crutches and had a pronounced limp. I felt disconnected from other people and from my emotions. I thought if I felt anything, I would literally break. Luckily the show had an extraordinarily talented and loving cast. Cyril Simon created a particularly safe environment, and the work that transpired constituted my first top-notch rehearsal experience. After we closed, Cyril asked four of us to accompany him to The Second City theatre in Chicago. I was horrendous at improvisational comedy, but it was a glorious opportunity to watch and learn from the likes of Harold Ramis and Brian Doyle-Murray.

Other Work at Kirkland: Alan Pakula was directing The Sterile Cuckoo on campus. I auditioned and was cast as Liza Minelli's roommate. The next thing I knew, I got to go to Hollywood with two other students from Hamilton, Bugs [Christopher Bugbee '69] and Mark Fish ['70], who happened to be gorgeous, intelligent upperclassmen. I thought I had died and gone to heaven. I spent my junior year at Juilliard studying theory, piano and voice. I inhaled the place. My senior year at Kirkland was spent at The Neighborhood Playhouse [in New York City], where I studied with Sandy Meisner. By the time I graduated from Kirkland, I had my SAG card, my Equity Card and an agent. Kirkland, Sam Babbitt and, more specifically, Dean Nelbach supported me throughout my customized curricula, making Kirkland the perfect college for me.

Big Break: I had a few, and I'm grateful for all of them. You can't make it in show business without breaks. My first came during my final production at The Neighborhood Playhouse. I was in Bus Stop, after which an agent called and signed me.

Best-Known Roles: Grace Farrel in Annie [on Broadway]. Mamie in the TV series Days and Nights of Molly Dodd.

Favorite Actors You've Worked With: Jason Robards, John Spencer, Andrea McArdle, James Earl Jones, David Strathairn, Blair Brown, Tom Cruise, Colleen Dewhurst, Jamie Lee Curtis, Scott Bakula, Craig T. Nelson, Richard Crenna and the casts of Is There Life After High School? and Loose Ends.

Most Rewarding Role: There are three. 1) Grace in Annie. Anyone who says it ain't fun to be in a hit is lying! I loved the part, the cast and the dear, funny writer, Tom Meehan ['51]. 2) Alice in You Can't Take It With You, where I got to act on Broadway every night with the incomparable Jason Robards. What can I say? 3) Susan in Loose Ends, alongside John Spencer, Court Miller, Sally Sockwell and Jay Patterson.

Biggest Challenge as an Actor: I always thought it would be to quit acting, but the decision snuck up on me. I found myself not wanting to audition. I was living in California, and the audition and rehearsal process in LA always left me flat or unsettled. Jobs became more lines on my résumé. I found myself volunteering to direct and produce at my daughters' elementary school. Before I knew it, I was producing new musicals in my garage, at Luna Park, at The Santa Monica Playhouse and then at Goodspeed Opera House in Connecticut, which led to off-Broadway.

Current Project: My passion for theater and new works led me back to working with children. I earned a master's degree last January from NYU's Steinhardt School of Education and am glorying in my second year of teaching drama and musical theatre at LaGuardia High School For The Performing Arts, the school that inspired the movie Fame. It is also the school that inspires me. It's a haven for hundreds of eccentric folks, young and old, with passion, talent, loud voices and an ardent love of learning. It's my biggest break of all. I'm finally home.

Family Life: My daughter Molly just graduated summa cum laude from Barnard. She has decided to attend nursing school in New York and hopes to join Doctors Without Borders in two years. My daughter Lucy is a junior at Smith. She is a dance major. My partner of seven years Todd Susman just finished a two-year gig in Hairspray as the dad, Wilbur Turnblatt. He brings to our relationship three beautiful children and three grandchildren. I am a very lucky lady.