Around College
6 win prizes in public speaking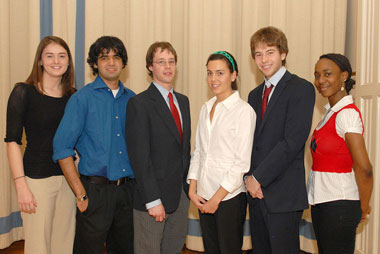 Six Hamilton students earned awards March 8 during the final rounds of Hamilton's annual public speaking competition in the Chapel. The finalists had been selected based on their performance in a Feb. 16 preliminary round.

Winners of the McKinney Prize were Amr Rouvan Mahmud '11, Thomas Coppola '10, Asia Agers '09 and Emma Slane '08. The McKinney Prize is awarded to one student from each class for a five- to eight-minute persuasive speech that has relevance and interest for a Hamilton College audience. It was established in 1878 by Charles McKinney.

Ryan Murphy '08 was awarded the Clark Prize. It was originally established through a gift from Aaron Clark in 1859 and re-established in 1892 through a gift from the Fayerweather estate. The Clark Prize competition is open to the students in the senior class. The competition includes both an essay and a speech on an assigned topic. This year's topic was "Green at Hamilton: Individual versus Institutional Responsibility."

Alexandra Berkley '08 won the Warren E. Wright Prize. It was established in honor of Warren E. Wright, the Upson Professor of Rhetoric and Oratory at Hamilton from 1977 to 1993, and is awarded to a student for a six-to eight-minute informative speech on a socially significant issue of current interest. It is open to students who have taken or are currently taking a course in public speaking in the Department of Communication.

Around College Contents