Around College
Artist Williams '73 visits Emerson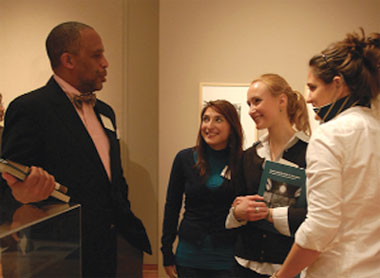 William E. Williams '73, professor of fine arts at Haverford College, has been photographing Underground Railroad sites across the nation for more than 20 years. Thirty of those black-and-white images, depicting sites in Central New York, are on exhibit at Hamilton's Emerson Galley through April 13 as "Uncovering the Path to Freedom" — a ­compelling and multilayered record of the region's history.

Three students, Katerina Adair '10, Ilana Carlin '09 and Sophia Franck '08, worked with Williams, Deborah Pokinski, associate professor of art history, and Susanna White, associate director and curator of the Emerson Gallery, on the curatorial team for the exhibition. Williams was on hand for a public conversation and reception at the gallery Jan. 30.

The showing, which includes letters, photos and sculpture that help tell the story of the abolitionist movement at Hamilton College and the surrounding region, is one of three concurrent exhibitions devoted to African-American history. A second, "Unsung Heroes: African-American Soldiers in the Civil War," comprises photographs by Williams of battle sites where black soldiers fought and died — places that often go unacknowledged or forgotten. The third, "Emancipation and Denigration: Thomas Nast Pictures Black America," features 16 wood engravings by famed 19th-century political cartoonist Nast from the collection of Jay Williams '54, the Walcott-Bartlett Professor of Religious Studies, and features an audio tour produced by Nina Platt '10.

Around College Contents