Around College
Coach Grady retires after icing 304 wins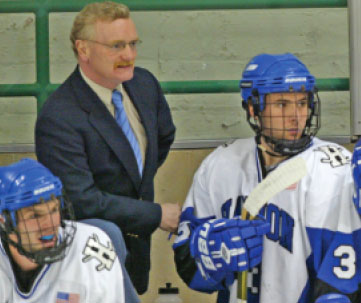 Citing health concerns and a commitment to family, men's ice hockey coach Phil Grady announced his retirement Feb. 26, shortly after recording the 300th victory of his coaching career. He will remain as a professor of physical education and special assistant to Director of Athletics Jon Hind '80.

"Phil has been a tremendous advocate for Hamilton College and a wonderful mentor for the many student-athletes who have played for him," Hind said. "His love for the institution and his passion for the Hamilton College Athletic Department have been steadfast throughout his 25 years of service. I'm thrilled he will be staying on to assist in the department next year."

Grady's 300th win — all at Hamilton — came Nov. 25 as the Continentals defeated SUNY Potsdam in the consolation game of the Babson College Invitational Tournament. Nine days later, at Hamilton's next home appearance, Grady was honored at a pregame ceremony with a plaque featuring the puck from the milestone victory, presented by his sons Brian and Kevin, team captain Kyle Roulston '09 and Hind.

In 24 years at the helm of the program, Grady anchored a program rich in history and hockey lore. He came to Hamilton in 1983 as the assistant to coach Greg Batt, who himself began coaching in 1948 and tallied 263 career wins. Batt, in turn, had assumed command from the coach who introduced hockey to the Hill, Albert Prettyman, in 1918. Grady's 304 career victories made him 12th among active Division III hockey coaches and just the 17th in history to reach the milestone.

"The game has evolved, so we've had to make technical changes to the way we play," he said of his coaching longevity shortly before his retirement. Still, Grady says, "a Hamilton hockey player is a Hamilton hockey player. They're all intelligent, highly motivated, they've all been playing hockey since they were kids. As a hockey coach, my job is to see that my players get a great education and a great hockey experience, and then that they leave here prepared to do what they choose to do."

Grady also maintains his enthusiasm for the less publicized side of his job — serving as a physical education professor, which he'll continue to do. "Students who are involved in athletics are doing so because they have a passion for it. Students who are taking physical education courses are doing so because it's a requirement," he says. "I take that as a challenge to make sure that everyone gets something out of the class — to give them some of the skills and techniques and rules of the game so that they can enjoy that activity long after they've graduated from Hamilton.

"What I enjoy is coming through here in the winter and seeing some kids who were in my racquetball class last year out there still playing racquetball."

Around College Contents
Coach Grady retires after icing 304 wins