Around College
Hamiltonians serve on King Day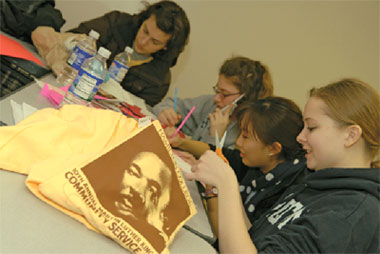 The T-shirts worn by Hamilton volunteers told the story: "We must work increasingly to uplift this nation that we love to a higher destiny, to a higher plateau of compassion, to a more noble expression of humanness." The quotation was from Dr. Martin Luther King, Jr., and the occasion was the 10th annual Martin Luther King Service Day, hosted by Hamilton's Action Volunteer Outreach Coalition (HAVOC).

More than 150 students and faculty members spent the afternoon of Jan. 26 serving at a variety of nonprofit agencies in and around the Utica area, including the Loretto Center, a senior health care community; the American Red Cross; the Utica Children's Museum; and Emmaus House, an emergency shelter. Activities ranged from cleaning and decorating to visiting elderly residents to working in the Helping Horses Help Kids program at Verona's Root Farm, which allows special-needs children to receive physical therapy using the movement of horses as a treatment tool. Volunteers who did not work in Utica hosted children from Utica's Neighborhood Center on the Hamilton campus.

The week before, 27 Hamilton employees provided similar volunteer service in Utica, at United Cerebral Palsy, Jesus Christ Tabernacle of David (JCTOD), Hope House, the Loretto Center and Sculpture Space.

Around College Contents