Around College
Marco Allodi '08 on USA Today team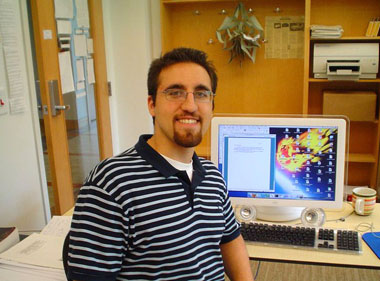 Marco Allodi '08, a chemical physics major, has been named to USA Today's 19th annual All-USA College Academic Team third team. He is the second Hamilton student in two years to be recognized by USA Today; Mary Beth Day '07 was named to the first team last spring.

Allodi, who conducts research with George Shields, the Winslow Professor of Chemistry, has been the recipient of a Goldwater Scholarship, the premier national undergraduate award in mathematics, the natural sciences and engineering. He was first author on a paper published in Journal of Physical Chemistry A (2006), "Do Hydroxyl Radical-Water Clusters, OH(H2O)n, n=1-5, Exist in the Atmosphere?" Allodi also has presented research at the Sanibel Symposium in Florida; the MERCURY conference, a national undergraduate computational chemistry conference held each year at Hamilton; and at the Hamilton chapter of Sigma Xi's poster session for student research. He has spent the last three summers at Hamilton conducting research with Shields and Karl Kirschner, co-director of the Center for Molecular Design.

Allodi is the son of Janet and Federico Allodi of Oriskany, N.Y. A dean's list student, he is a member of the Hamilton College Chemical Society, the Choir and the Spanish Club. He also volunteers as a soccer coach for inner-city children from Utica's Cornhill area. Allodi is involved in the Tau Kappa Epsilon fraternity, having served as rush chair and chaplain. After graduation from Hamilton he plans to pursue a Ph.D. in chemical physics.

Around College Contents