Bookshelf
The following books by Hamilton and Kirkland alumni have been added to the Burke Library ­collection. We welcome other new or recent books for annotation in upcoming issues of the Alumni Review. Bibliographic information for ordering purposes may be sent to florenz@hamilton.edu, or, preferably, copies of books to ­Bookshelf Editor, Alumni Review.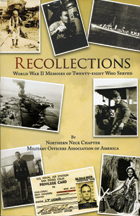 Franklin T. Birdsall, Jr. '52 (editor), Recollections: World War II Memoirs of Twenty–Eight Who Served ([no place]: Xlibris, 2008). A compilation of reminiscences published under the auspices of a chapter of the Military Officers Association of America, these accounts of first-hand experiences form a rich oral history of Americans at war. All branches of military service are represented, and included are the reminiscences of a Hamilton alumnus, the Rev. George L. Barton '40. The project was led by Frank Birdsall as historian, interviewer and transcript editor, and it took almost six years to complete. As a valuable addition to our knowledge of the "Greatest Generation," it was well worth the time and effort it took.

Skip Conover '68, Tsunami of Blood: How Fear-Mongering Politicians, Hate-Mongering Theologians, and Irresponsible Press are Guiding Us to an Age of Horrors, 2nd ed. (Annapolis, Md.: Words Matter, 2007). As the title clearly indicates, this book raises the alarm over what may happen in the future if our global policies are not reversed. Donald L."Skip" Conover, a lawyer and business executive who has lived, worked and traveled extensively abroad, especially in the Muslim world, first raised the alarm through his blog entries, which are now collected and published in book form. He points out that the Islamic world, with some 65 percent of its population under 25 years of age, is a vast pressure cooker of increasing frustration and rage. It is directed against native elitist rulers as well as their Western allies. He urges a change in Western policies, especially in the Middle East, before it is too late. To prevent a future bloodbath between East and West, he advocates abandonment of "myopic" policies in favor of building bridges to understanding with the Muslim world, based on long-term, general and mutual global interests.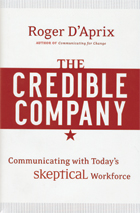 Roger D'Aprix '55, The Credible ­Company: Communicating with Today's Skeptical Workforce (San Francisco: Jossey-Bass, 2009). The author's seventh book on corporate communication, it underscores the revolutionary changes occurring in the contemporary workplace brought about by a global economy accompanied by reorganization, downsizing and outsourcing. Written in informal and highly readable style, and with many illustrative examples, it is intended for company executives as well as communications professionals. The author, himself a widely known and respected expert and consultant in the field, offers a practical and tested ­strategy for communication with and ­engaging the commitment of ­corporate employees.

Jennifer (Rasin) Denniston '88 (co-author), Grand Canyon National Park, 2nd ed. (Melbourne: Lonely Planet, 2008). A handy guidebook to one of America's, and the world's, great natural wonders, the Grand Canyon. It is especially helpful to those who wish to get out of their cars, spend some time in the park, and do some hiking and exploration. Replete with maps, it includes historical and geographical background, itineraries, practical advice and information on places to stay and dine as well as nearby places to visit. Part of the excellent Lonely Planet travel guides series, its co-author is a free-lance writer based in Iowa.

Carol Luers Eyman K'77 (editor), The Nashua Experience: A Three-Decade Upgrade, 1978-2008 (Portsmouth, N.H.: Peter E. Randall, 2009). Published under the auspices of the Nashua Public Library, this large-format and well-illustrated volume is a sequel to a history of the New Hampshire town, first published in 1978. Drawn in part from extensive interviews, it updates a fine work on local history and should be of interest to anyone who is acquainted with or curious about Nashua, which has been saluted as "The Best Place to Live in America." Its editor is the outreach and community services coordinator at the Nashua Public Library.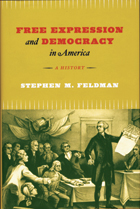 Stephen M. Feldman '77, Free Expression and Democracy in America: A History (Chicago: Univ. of Chicago Pr., 2008). Hailed as "the best comprehensive overview of the law, history and politics of free expression in America ever published," this volume covers all the major conflicts over free speech that have raged in the country from colonial times to the Vietnam War era. In scrupulously tracing the recurring patterns of dissent in the form of speech, combined with efforts to suppress it, the author underscores the development of legal doctrines with regard to free expression as well as the country's evolution from a representative to a "pluralist" democracy. This is a book not only for legal historians and political scientists but also for anyone interested in a major constitutional issue that continues to pose challenges to the courts and the country today. Its author is the Jerry W. Housel-Carl F. Arnold Distinguished Professor of Law and adjunct professor of political science at the ­University of Wyoming.

Bill Fivaz '56 (co-author), ­Cherrypickers' Guide to Rare Die ­Varieties of United States Coins, 5th ed. (Atlanta, Ga.: Whitman, 2009). The ­latest edition of a basic handbook in the numismatic field. Profusely illustrated, it is an enormously useful tool in identifying and evaluating die varieties of U.S. coins. Bill Fivaz, also the author of the award-winning United States Gold Counterfeit ­Detection Guide (2005), is a nationally recognized and respected authority on numismatic errors and varieties. A former member of the board of governors of the American Numismatic Association, he was elected to its Hall of Fame in 2002.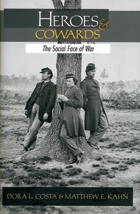 Matthew E. Kahn '88 (co-author), Heroes and Cowards: The Social Face of War (Princeton, N.J.: Princeton Univ. Pr., 2008). Derived from the enlistment and pension records of more than 40,000 Union Army veterans of the Civil War, this impressive study focuses on the social bonds and influences that shaped the soldiers' lives during and after the war. Although based on rigorous statistical analysis, it is not "a boring academic book" but highly readable and immensely informative about the Civil War soldier, his motivation and behavior, and group behavior in general. Matthew Kahn, who wrote the book with his wife, Dora L. Costa, is an economist who teaches at the University of California, Los, Angeles, as does she. Both are research associates at the National Bureau of Economic Research.

W. Bruce Lundberg '66 (editor), Steps Off the Beaten Path: Nineteenth-Century Photographs of Rome and its Environs (New York: Charta Bks., 2007). A lavishly illustrated, large-format ­volume, with text both in English and Italian. Prepared as a catalogue for an exhibition at the American Academy in Rome, it features the works of late 19th-century photographers. The works are to a great extent drawn from Dr. Lundberg's own photographic collection, many exhibited and published for the first time in a volume that represents a noteworthy contribution to the history
of photography.

Omar S. Pound '51, Omar Shakespear Pound: A Bibliography (Clinton, N.Y.: Hamilton College, 2008). Compiled with a bibliographic note by Cameron McWhirter '86 and published by Hamilton's Richard W. Couper Press, this slim volume comprises the work of a poet and translator, best known for his Arabic & Persian Poems (1970), who has also been a teacher and meticulous scholar.


David S. Richeson '93, Euler's Gem: The Polyhedron Formula and the Birth of Topology (Princeton, N.J.: Princeton Univ. Pr., 2008). In the 18th century the Swiss mathematician Leonhard Euler propounded what became known as his polyhedron formula. It describes the structure of objects ranging from gemstones to soccer balls. David Richeson, an associate professor of mathematics at Dickinson College, tells the story of Euler's formula from its historical background to its influence on the development of modern topology, the study of shapes. Praised as "a fascinating and accessible excursion through two thousand years of mathematics," this elegantly written and nicely illustrated book conveys the author's enthusiasm for his subject, which should prove contagious to any reader with even a vague interest in math.

Arthur Roemmelt '65, Fourplay: A Video Poker Affair with Four of a Kind ([no place]: the author, 2008). Written by a psychiatrist who practices in Syracuse, New York, this book provides a new system for playing video poker machines while also "probing into, embracing, and giving support for the gambling mind." Informally and engagingly written, it offers a method for enhancing and holding on to winnings by remaining in control psychologically while coping with the infernally fickle machines. You don't have to be a gambler to enjoy this highly entertaining book, but after reading it you might be tempted to give it a try.

Albert C. Saunders '54, The Reality and Ethics of Jesus: Issues and History ([no place]: Xlibris, 2008)."Are the aims and ethics of Jesus irrelevant in this modern era?" This is one of the questions that the Rev. Dr. Saunders addresses in this book, which focuses on major challenges to Christianity today and future prospects for the church in America. Wide-ranging and beginning with "the conflict between history and faith," the author concludes with a plea for a "dialogical engagement" between the two. Included is a highly informative retracing of the quest for the historical Jesus that presents the various interpretations and points of view. It is a scholarly and thoughtful book by a man who has had a varied career as an Army chaplain, pastor, church representative and staff member on Capitol Hill.


Elaine F. Weiss K'73, Fruits of Victory: The Woman's Land Army of America in the Great War (Washington, D.C.: Potomac Bks., 2008). She was "The Girl With a Hoe Behind the Man With a Gun," part of a small army of American women mobilized during World War I. A chapter in the history of the women's movement, the Woman's Land Army of that era, more than 20,000 strong, has today been all but forgotten. Elaine Weiss, a journalist residing in Baltimore, Maryland, and a frequent correspondent for the Christian Science Monitor, has now rediscovered and illuminated the story of the "farmerettes" who, on the rural home front of the First World War, took over the farm work from the men who were called into ­military service. Wearing military-style uniforms and living in camps, they were drawn from all walks of life to do "a man's job" in a great patriotic effort to provide food for the nation at war. It is a story drawn from a variety of sources and engagingly told. Above all, it adds to our knowledge of events and movements that gradually changed the role of women in ­ 20th-century American society.

Jay G. Williams '54, Religion: What It Has Been and What It Is (New York: YBK, 2008). Intended as an introductory overview of the development of religion, this slim volume encompasses the four world "cultural ­channels" of religious evolution: China, India and South Asia, the Near East, and Europe. The religious traditions that evolved through those channels are traced up to contemporary times in reader-friendly fashion. The author, the ­Walcott-Bartlett ­Professor of Religious Studies at Hamilton, has written a book that is ideal for anyone who wishes a basic introduction to the world's religions and their ­historical development.